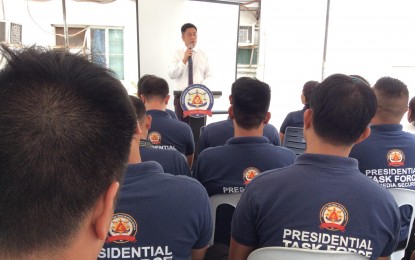 MANILA -- More than 20 special agents of the Presidential Task Force on Media Security (PTFoMS) have been deployed to investigate and/or reinvestigate unresolved killings of media workers in the most vulnerable regions of the country.
In a simple send-off ceremony on Monday, Presidential Communications Operations Office (PCOO) Secretary and PTFoMS co-chair Martin Andanar encouraged the special agents not to be intimidated in fulfilling their mission to finish all unresolved cases of media killing and harassment.
"There is no challenge that you cannot hurdle. You have the full backing of the whole bureaucracy and media community," Andanar told the PTFoMS team.
Andanar assured them of President Rodrigo R. Duterte's full support, citing the creation of PTFoMS through Duterte's first administrative order signed in October 2016.
"Your job is very significant because this PTFoMS is not an ordinary administrative order. This is the No. 1 AO by the President and so, the President's support for you is 100 percent," he said.
He said the deployment marked another milestone in the Duterte administration's campaign against impunity on members of the working press.
"We are here again to show to the world that the administration of President Duterte does not condone violence or repression of the media," Andanar said.
Andanar said PTFoMS, under the stewardship of its executive director, Communications Undersecretary Joel Egco, has placed safety mechanism to ensure security and safety of the media workers.
Egco said PTFoMS agents have until April 6 to finish the task of reinvestigating media killing and harassment cases particularly in Regions 5, 6, 10 and 11.
"We have already investigated at least 60 cases but we want to make zero those unsolved cases and there are areas in these regions which have not submitted reports. So our agents will go there to know why they cannot provide us with necessary documents," Egco explained.
Egco said the task force is hoping to finish all the unresolved cases within this year, adding that "failure is not an option" for the PTFoMS.
"We have done so much but we still have to go down to the provinces to investigate the unresolved cases because we want to remove our country from the list of the most dangerous countries for media," he said.
He said the country has zero incidents of media killings and harassments for the last six months.
The deployment was part of the Vision 2020 Action Plan formulated by the PTFoMS during a seminar-workshop held recently at the National Press Club. (PNA)