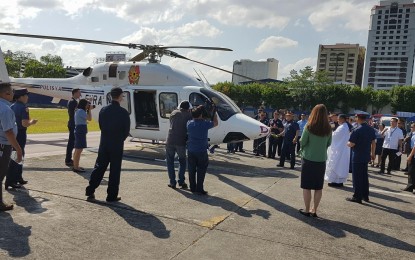 MANILA -- Outgoing Philippine National Police (PNP) Director General Ronald dela Rosa on Monday boarded the first of three brand new multi-role helicopters purchased for the PNP.
"The Bell 429 twin engine rotary wing aircraft will greatly enhance the operational flexibility by providing air support to ground troops. This multi-role police helicopter is designed to perform a variety of support missions," Dela Rosa told reporters shortly before boarding the helicopter which flew to the Philippine Military Academy (PMA) in Baguio City.
The helicopter was acquired through public bidding and the contract was awarded on June 28, 2017 to Bell Helicopters Textron of Fort Worth, Texas for a contract price of PHP435 million. The unit was delivered and inspected on April 12, three months ahead of the delivery schedule on July 5.
The 42 foot-long, 13 feet high aircraft has a crew of one pilot and can carry up to seven passengers including one beside the pilot. It is powered by two engines and is rated for a range of up to 722 km and a cruising speed of 270 kph.
As part of the deal, PNP pilots will undergo training in Texas.
Meanwhile, plans for the training of more than a dozen pilots to man the four helicopters scheduled to be delivered next year are underway.
At present, the air assets component of the PNP is limited to a single Cessna 150. Government audit policies do not allow the repair of aircraft when the cost of such procedure would amount to an excess of 30 percent of its acquisition value.
This policy prompted the purchase of new aircraft instead. (PNA)