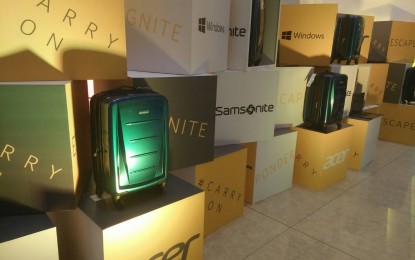 MANILA -- Technology firm Acer has partnered with bag and luggage manufacturer Samsonite to encourage the youth to "carry on," whatever challenges they might be facing.
The "Carry On" campaign also serves as Acer's back-to-school promo, wherein customers will receive a free Samsonite luggage for every purchase of select Acer laptops, desktops, and projectors.
"We have this as a back-to-school promo because that's the season now. But we target the millennials and young professionals for this campaign, and not just the students," explained Ray Gozon, Acer Philippines' senior marketing manager, to the Philippine News Agency (PNA).
In a video message played during the campaign's launch at the SM Megamall on Tuesday evening, Sue Ong-Lim, Acer's sales and marketing director, said one of the millennials' strongest motivations is traveling.
Acer also created a video for this campaign, which the public can view via the firm's official Facebook page. The video shows a story of a group of friends and how they opted to travel to take a break from the stress they were dealing with.
Samsonite Philippines country head Cielo Buenviaje said traveling also gives a person a clearer picture of the world, since this would expose him or her to different environments and cultures.
"It was Acer which initiated this campaign, and we chose Samsonite because of its industry leadership, and its products' quality and durability," Gozon said.
He added that Samsonite has been very generous in giving Acer with good deals for this promo, which will run until June 30.
Meanwhile, Gozon told the PNA that Acer has a lot of upcoming campaigns and surprises, especially in its gaming line.
He urged the public to watch the firm's global presscon via Facebook Live at 11 p.m. on May where Acer will announce its new products. (PNA)