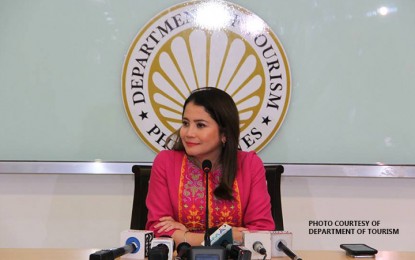 MANILA -- Tourism Secretary Bernadette Romulo-Puyat on Thursday said she has stopped all lined up events and projects of the Tourism Promotions Board (TPB) for 2018 and 2019, including the questioned Buhay Carinderia, pending a review.
In a press conference, Romulo-Puyat told reporters that TPB chief operating officer Cesar Montano in their private meeting Wednesday night received the order.
A memorandum instructing the agency to submit list and status of TPB's ongoing projects was sent to his office on May 17.
The tourism head on the same day immediately endorsed the review to the Commission on Audit (COA).
"Let's leave it to the COA," she said.
The review was requested after questions were raised on TPB's PHP80 million payment to the Filipino food tourism project, Buhay Carinderia-Redefined in just one month.
Romulo-Puyat confirmed that the first tranche of payment for PHP320-million project was already received by the project proponent, Marylindbert International Inc.
She found out that Buhay Carinderia did not undergo a proper bidding, but through sponsorship, which was explained to her as a "common practice" at the TPB.
When called to explain, Montano pointed out that the project was approved by the board.
"Yung pag-release ng checks, lahat naman daw ito dumaan sa legal ng TPB at sinabing above board (All release of the checks were reviewed by the legal of TPB and it declared them aboveboard)," Romulo-Puyat quoted Montano as saying.
"I think he acted on good faith, pero kasi sa akin, sanay ako sa Department of Agriculture na mayroong bidding kahit PHP1 million lang (I think he acted on good faith, but for me, I'm used to having a bidding even though it's only PHP1 million when I was with the Department of Agriculture)," she added.
Romulo-Puyat said she is not comfortable implementing a program that did not go through a bidding.
She said she is not insinuating the TPB process is incorrect, but believes as TPB chair, she has the right to change the process.
"I will wait for the COA to reply, but until then, I will not proceed with the Buhay Carinderia. If that's the usual process of the TPB but what I'm used to the process we had in DA. We'll see, because it's PHP80 million," Romulo-Puyat explained.
Romulo-Puyat was a former Agriculture Undersecretary for Special Concerns prior her appointment to DOT. (PNA)