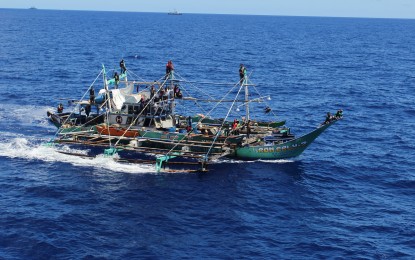 MANILA – A group of Filipino fishermen warmly greeted the flotilla of military and research vessels that undertook the expedition to the Philippine Rise this week, underscoring the importance of the area to the country's food supply.
The elated fishermen rode their bancas alongside the BRP Davao del Sur, the lead ship in the nine-vessel fleet that went to the area to commemorate its renaming from Benham Rise to Philippine Rise.
The Bureau of Fisheries and Aquatic Resources (BFAR), which is conducting studies in the area, has laid out plans to develop the area as a fishing ground, noting that it is home to a vast marine biodiversity.
The diverse marine life in the area includes high-value fish species, such as blue-fin tuna and black and white marlin as well as round scad, commonly known as galunggong.
The Philippines, along with other countries in the Pacific region, provides 60 percent of the world's tuna catches. Along with milkfish, tilapia and galunggong, various tuna species are the most commonly consumed fish species in the Philippines. A paper from the University of Mindanao noted that the supply for galunggong reached 300,000 metric tons from 1991 to 2010.
The BFAR has proposed a fishery development support for fishermen in the area centered on regulation, which includes the establishment of payaos or fishing sheds for fishermen. (PNA)