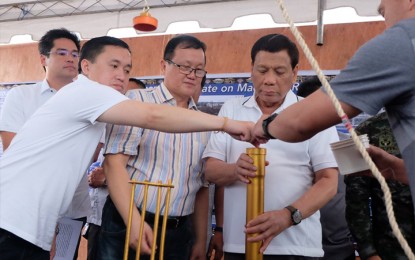 TALISAY CITY, Negros Occidental -- The National Housing Authority (NHA) is planning to hold the groundbreaking for six more housing projects under The New Armed Forces of the Philippines (AFP)/Phillippine National Police (PNP) Housing Program this 2018.
National Housing Authority (NHA) General Manager Marcelino Escalada Jr. said the target is to start the construction of 9,000 to 9,500 housing units within the year.
Escalada was here on Sunday for the launching of the 1,000-unit Vista Alegre Homes worth PHP1 billion in Barangay Dos Hermanas led by President Rodrigo R. Duterte.
The Talisay City site, seen to be completed by March next year, is the fifth being developed by the NHA under The New AFP/PNP Housing Program.
The first project, the Madayaw Residences in Barangay Talomo, Davao City, has 640 units, while the second, the Scout Range Ville in Barangays Calumpang and Tartaro-Sibul, San Miguel, Bulacan, has 1,000 units.
The building/housing construction of both projects are in progress.
In Barangay Maria Cristina, Bal-oi, Lanao del Norte, the land development for Christine Villas, which also hosts 1,000 units, is in progress.
The fourth project is the Casa San Miguel in Barangay San Agustin, Concepcion, Tarlac City, where survey works and clearing are ongoing.
Scheduled for groundbreaking this year are the Cabaluay Place in Barangay Cabaluay, Zamboanga City, 925 units; Lantaw Homes in Barangay Tugbok, Davao City, 1,000 units; and Loakan Heights in Fort Gregorio Del Pilar, Baguio City, 512 units.
Survey works are also ongoing in these three sites.
The three others also set for groundbreaking this 2018 are the Woodstown in Barangay Tabtabungao, Rosario, La Union, 500 units; Ciudad de Dahican in Barangay Dahican, Mati City, Davao Oriental, 500 units; and Adelaide Homes in Barangay Guilon, Island of Samal, Davao del Norte.
Escalada said during the program here on Sunday the housing projects are a "complete departure" from the previous AFP/PNP housing program.
"In the past, it used to be a 22-square meter floor are over a 40-square meter lot area. Today, by virtue of the instruction of the President to the NHA, we have increased the lot size from 40 to 80 square meters and the floor size from 20 to 60 square meters with two bedrooms," he added.
Escalada said in an interview before the program that under the Duterte administration, the NHA will ensure that the design and the construction methodology for these housing projects are of high quality.
"For the Duterte administration, I will guarantee you that there is no substandard (project)," he added. (PNA)