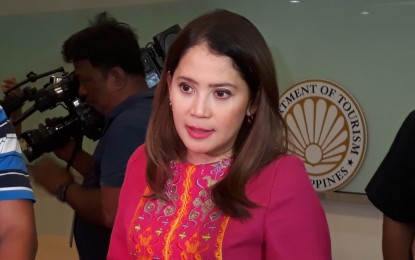 MANILA -- The Department of Tourism (DOT) will hold the door open for everyone to see how captivating Filipino culture is, DOT chief Bernadette Romulo-Puyat said when asked of her plans at the agency.
"I love beaches, I love Boracay, I love Bohol, but there is more to it than that," she mused, referring to other emerging destinations yet to be explored.
The Tourism chief said aside from the country's popular beaches, she would like to promote Philippine culture and tradition as well.
She shared that she attended last year a local festival in Ifugao province, which she described as a "beautiful" experience.
"Last year, I was invited to the Punnuk Rice Festival and a rice ritual in Ifugao, we drank rice wine, (observe) the rituals, and (shared Ifugao's) heirloom rice... it is one of the beautiful experiences," she said in a recent television interview.
Punnuk is a post-harvest ritual in Hungduan, Ifugao, home of the famed rice terraces, performed by residents of Hapao, Baang, and Nungulunan.
Romulo-Puyat said letting foreigners and locals alike experience similar unadulterated Filipino tradition, along with farm tours, serves as another selling point to boost the country's tourism already prominent for its pristine beaches.
Four years from now, the Tourism chief expects her vision on heritage tourism to flourish. She also vowed that DOT will maximize the use of digital media in promotions.
"Right now, I have to see the historical data first. (But) I will be heavy on digital media," she added. (PNA)