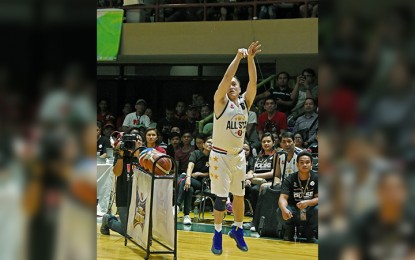 DIGOS CITY -- Special Assistant to the President (SAP) Christopher "Bong" Go showed his basketball chops and at the same time his commitment to the Duterte administration's campaign against illegal drugs, criminality and corruption as he led on May 23 the Philippine Basketball Association (PBA) All-Star 3-Point Shootout, to the delight of basketball fans.
Alongside PBA stars Scottie Thompson and Terrence Romeo, as well as PBA legends Allan "The Triggerman" Caidic and Captain Kenneth Duremdes, Go shot some hoops in the name of friendly competition.
Go compared the 3-point shootout game to the government's three major agenda: Anti-Drugs, Anti-Corruption and Anti-Criminality.
"Kaya nandito ako, inimbitahan po ako ng PBA para sa 3-point shootout, kasama ko si Allan Caidic at meron pang three other teams (I'm here because I was invited by the PBA for the 3-point shootout. With me are Allan Caidic and three other teams)," Go said in an interview. "Nagka-taon rin na ang kampanya ng pangulo, 3 points din, di ba? (And as it turns out, the President's campaign also has three points.) Anti-Drugs, Anti-Corruption and Anti-Criminality."
Go explained that he has been a fan of the PBA as a child, often watching the game farthest from the courtside.
"Matagal ko na pong hilig ang basketball. In fact, mga 1984, 10 years old pa ako, pupunta ako ng Ultra, sumasakay ako ng jeep, sumasakay ako ng bus, nanonood ako ng basketball (ng) libre (I have long been enthusiastic about basketball. In fact, in 1984 when I was 10 years old, I would take the jeep, the bus to get to Ultra and watch basketball for free)," Go said, adding that he got free tickets from a former and now deceased PBA official.
"Pag pasok ko ng 5 o'clock, nakaupo ako dyan sa malapit, pag dating ng 8 o'clock, puno na yung gym. Nandun na ako sa malayo kasi pinapalipat-lipat, walang upuan yun eh. Ganun ako kahilig noon ng basketball, hanggang ngayon (When I get in at 5 o'clock, I would sit near the court. At about 8 o'clock when the gym is full, I would move to the far end. That is how much I love basketball)," he reminisced.
Similar to the fervor shown by the public towards basketball, Go also urged Filipinos to show the same commitment towards changing the country for the better, starting with avoiding illegal drugs, abiding by the law, and being proactive with President Duterte's "3-point campaign."
"Samahan nyo kami dito sa kampanya ni Pangulong Duterte (Join us in President Duterte's campaign)," he urged the public. (PCOO - Davao)