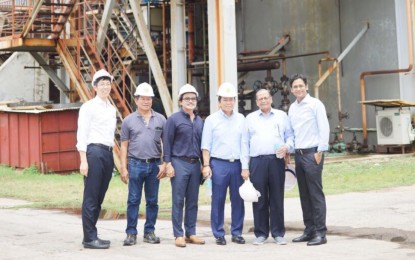 DAVAO CITY -- The Philippine Phosphate Fertilizer Corporation (Philphos) will start on July 1st the rehabilitation of its plant complex in Isabel, Leyte which was totally damaged by super typhoon Haiyan locally known as Typhoon Yolanda in 2013.
Philphos Chairman Salvador Zamora made the disclosure following a successful talk with Dubai's G.S. Gupta, Chairman of Agrifields which agreed to invest USD150-million to kick-off the rehab plan. Zamora revealed that the entire complex of Philphos was re-insured by the Lloyds of London for USD300-million but that only USD150-million had been released so far.
Philphos was the biggest phosphate producer in Southeast Asia with an output of not less than one metric ton annually.
The rehabilitation, Zamora said, will be completed early 2019. More than 400 employees were displaced following the devastation caused by Yolanda. He expects to employ some of them as laborers during the rehabilitation and then employ them once the plant goes back to normal operations.
Zamora said he was motivated to revive the project because of the support that the Duterte administration is giving to farmers. He said that while Atlas Fertilizer of Cebu produces phosphate the country now resort to importation to augment the shortage. He said that Philippines used to be the biggest phosphate fertilizer exporter.
Philphos makes use of the sulphuric acid which is the byproduct of Philippine Aluminum Smelting & Refining (PASAR) Company which is also based in Leyte. Zamora explained that PASAR spends USD15-25/ton to get rid of sulphuric acid.
"We will erase these negative trade," he said.
Zamora added that phosphate production has its byproduct which he, and a probable Chinese partner will manufacture into a strong construction component that would drastically bring down the cost of socialized housing under the Duterte administration. No details had been mentioned except that there is an ongoing talks with a China group on this one. (PNA)