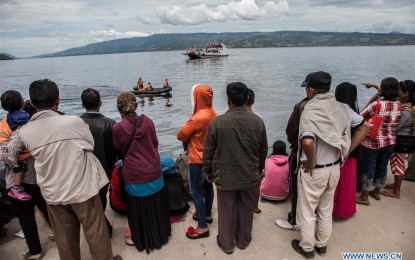 JAKARTA -- Rescuers have recovered three corpses and are searching for a total of 177 others, who remain missing after a passenger boat sank in Lake Toba of North Sumatra province in western Indonesia two days ago, a police officer and an official disclosed on Wednesday.
Kapal Motor Sinar Bangun boat capsized at 17:30 p.m. Jakarta time on Monday after leaving Simanindo port in Samosir district and was 1.61 kilometers away from its destination of Tigaras Parapat of Simalungun district.
"Three women were dead and 18 others have been rescued safely," director general for land transport of the transport ministry Budi Setiyadi said in a text message.
National police spokesman Senior Commissioner Yusri Yunus revealed that the rising number of the missing person, from 94 on Tuesday to 176 on Wednesday, came following reports of the missing persons' families.
Ships and boats with dozens of personnel are being deployed to the scene and its surrounding waters to search and rescue the victims, the spokesman said.
"Dive has been undertaken into the depth of 25 meters, still no victims are recovered," he told Xinhua in a text message.
Underwater robotic vehicles known as ROV have also been dispatched to detect the position of the wreckage of the boat and discover the victims, according to him. (Xinhuanet)