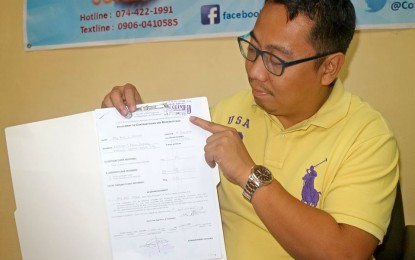 BAGUIO CITY -- Fifty-five winning candidates in the May 13 barangay elections in Baguio City are facing disqualification for failure to file their Statements of Contributions and Expenses (SOCE), the city's Commission on Elections (Comelec) officer said on Friday.
Lawyer John Paul Martin, Comelec-Baguio election officer, said the fate of the winning candidates is now at the hands of the Comelec en banc, whether they would be allowed to file late.
"We will wait for the decision of the central office on what will happen to the barangay officials who did not file their SOCE," he said.
Martin said those who face disqualification include a barangay captain, 11 councilors or kagawads, three Sangguniang Kabataan (SK) chairmen or youth council heads, and 40 SK kagawads.
The election official said all election candidates, whether they won or lost, are required to submit their SOCEs within 30 days after election day.
Based on Comelec records, only 1,785 filed their SOCE out of the 2,129 who ran for barangay captain and councilors in Baguio.
Out of 416 who ran for Sangguniang Kabataan positions, only 302 submitted their SOCEs.
Failing to comply were 344 for the barangay captain and councilor positions, and 114 for SK.
"This is a big number, considering that all the candidates have been informed of their obligation to file their SOCE, whether they won or lost. This is provided for by law and they are given a month to file, thus there is no reason for them to forget it," Martin stressed.
He said Comelec-Baguio would submit to the Department of the Interior and Local Government (DILG) the names of those who won in the election but failed to comply with the requirement of Section 14 of Republic Act 7166 for the submission of the SOCE.
The penalty for non-filing of the SOCE is disqualification for the winning candidate, making the person ineligible to sit in office. For those who lost, they may be barred from running in the next elections and from holding any office in government.
"The Campaign Finance Office of Comelec is focusing on this and looking at the names of those who did not file their SOCE," Martin disclosed.
He related that three winning barangay officials who filed their SOCEs with Comelec-Baguio after the deadline but were not received due to the late filing.
The three proceeded to the central office of the Comelec to file, but their documents, though received, were marked "late," and they were not issued certificates of compliance.
"The certificate of compliance issued by the Comelec to the candidates, who personally filed their SOCE, is the basis of the DILG in checking whether the barangay filed a SOCE," Martin pointed out.
The elected barangay officials, whose terms end in 2020, are set to take their oath of office on June 29, to be administered by Baguio Mayor Mauricio Domogan. (PNA)