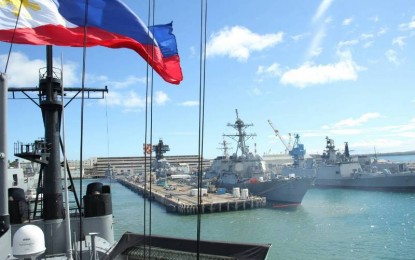 MANILA -- The two Philippine Navy (PN) ships that are participating in this year's "Rim of the Pacific" naval exercises, arrived in Hawaii Tuesday morning.
Strategic sealift vessel BRP Davao Del Sur (LD-602) and frigate BRP Andres Bonifacio (FF-17) have docked at Pearl Harbor at about 10 a.m. (Manila time), Navy spokesperson Commander Jonathan Zata said in a statement.
Aside from the two ships, the PN contingent is also boosted by an AgustaWestland AW-109 naval helicopter and 700 sailors and marines.
Zata said Naval Task Force 86, headed by Capt. Ernesto Baldovino, is the official designation of the Philippine Navy contingent to the RIMPAC, the world's largest joint and combined naval exercise and slated for June 27 to August 2.
"Participating nations will demonstrate the inherent capabilities of their respective naval forces through a wide range of realistic exercises that include human assistance and disaster response, maritime security operations, sea maneuvers and complex war fighting. The exercise not only aims to harness each nation's naval capabilities but also to bolster cooperation among participating nations to secure the maritime commons against threats," the PN spokesperson said.
He added that the PN's participation in this undertaking is indeed an attestation that the nation's premier maritime force is "coming of age", consistent with its vision towards a strong and credible Navy. (PNA)