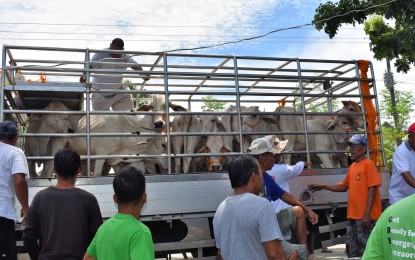 LAOAG CITY — The local government unit of Solsona continues to deliver livelihood assistance to marginalized earners and help them cope with financial difficulty.
On Thursday, town mayor Alexander Calucag led the distribution of at least 22 cattle to selected farmer-beneficiaries in Solsona town.
According to Calucag, the continuing animal dispersal program aims to eradicate extreme poverty by providing income-generating opportunities to disadvantaged families.
Often hit by strong typhoon, some residents in the mountainous town of Solsona struggle to make ends meet, particularly when the harvest season is over.
As a way of sustaining their daily needs, affected farmers during calamities were among the chosen beneficiaries in the animal dispersal program, which requires low investment cost.
Cattle, as well as goat raising, has become an important component of the agricultural system in Ilocos Norte as more small farmers in the rainfed and upland areas are now into it.
For one thing, cattle and goat thrive in the harsh environments of the region and easily integrated with existing crop-based farming systems.
"When you raise animals, they are considered as your security assets which provide emergency cash in times of need," said farmer Geronimo Asuncion as he explained meat products are in demand in the local market.
Farmer Willy Baguio of Mariquet village said he is thankful to the local government for giving him the opportunity to raise animals again.
Once they produce an offspring, the beneficiary will give it back to the municipality and turn over it to next beneficiary.
Meanwhile, several drug surrenderers in the same municipality were also given goat during an animal dispersal activity on Tuesday, June 26.(PNA)