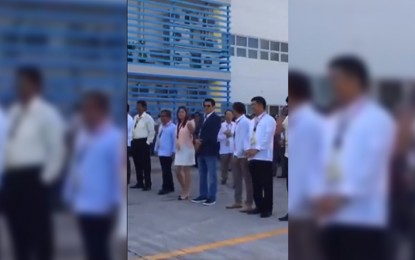 CALAMBA CITY, Laguna – Tanauan City, Batangas Mayor Antonio Halili was gunned down while attending Monday's flag raising rites around 8:15 a.m. at the city hall grounds as city officials and employees were singing the Philippine National Anthem.
City Public Information Office chief Gerardo Laresma, in an interview, said city hall workers heard a single shot from afar and immediately saw the mayor clad in blue overcoat suddenly staggered and wilted as blood oozed through his breast and gradually slumped on the ground.
As the ceremonies halted, he said the mayor's Civil security Unit (CSU) fired back with shots, triggering pandemonium as city officials and employees ran for safety.
He said Halili was rushed to the CP Reyes Medical treatment by CSU personnel but the attending physician declared the mayor dead on arrival at around 8:45 a.m..
According to Laresma, it was not clear where the direction of the single bullet came from.
He said they could not confirm if the assassination is linked to Halili's so-called iron-fist policy on his "shame campaign" for illegal drug offenders and other criminals, but admitted that the mayor has been receiving death threats because of his anti-illegal drugs and anti-criminality campaign.
"Sober ang mood ng mga tao, pero patuloy po ang aming serbisyo (The people are in a sober mood, but the city public services will continue)," he said.
Vice Mayor Jhoanna Corona-Villamor, who was standing next to Halili, told the media that a single shot reverberated through the venue.
Corona-Villamor said she heard Halili blurt "ah" while holding his breast as she noticed a single gunshot wound on his breast.
"Double action po 'yung bala, nag-panic na po ang lahat ng mga empleyado, kaya tumakbo na rin po ako (It was a double-action bullet and all the employees were in panic, so I also ran)," she said after which she ran for safety inside the city hall.
There is no existing high structure fronting the new city hall building, she said, citing the only open grassy field.
"Nagulat at nabigla po kami at nalulungkot sa pangyayari pero business as usual po sa city hall (We were surprised and shocked and are saddened over the incident, but it's business as usual at the city hall)," Corona-Villamor said as she rallied Tanaueño constituents to pray for the mayor and his bereaved family, while calling for justice for Halili.
Meanwhile, based on the initial report of the Batangas Provincial Police Office, Police Regional Office (PRO4-A) head, Chief Supt. Edward E. Caranza, said the bullet came from a distance and not at close range.
"(It was) definitely high-powered. Hindi pa po namin malaman kung 5.56 or 7.62 ang ginamit na bala (We still can't determine if the bullet used was 5.56 or 7.62)," Carranza said, noting that the hit man may also have even used a high-caliber firearm like a rifle.
The police director rushed to the Tanauan City police station to convene an emergency meeting with Tanauan City chief of police, Supt. Renato Mercado, and Batangas Police Provincial Director, Senior Supt. Edwin A. Quilates, to form a task force to probe the incident and capture the perpetrator.
Carranza added that upon his recent assumption as Calabarzon Police Regional Director, he has not received any request from Halili for any security except the installation of the mayor's own local Civil Security Unit (CSU).
He confirmed that there were no other persons injured in the shooting incident as the Batangas police thinks the hit man may have used either M-14 or M-16 rifle.
He said they are also confirming the actual footage from CCTV installed in the area.
As of press time, the Calabarzon police said Carranza has ordered an extensive operation dubbed "Iron Curtain," directing all adjacent police units in Tanauan City and nearby towns and cities to conduct manhunt operations to arrest the suspect/s.
Halili was popularly known as a tough mayor for his "Flores de Pusher" strategy that parades city drug offenders and suspected criminals around town in a "shame campaign" to rid his city of drug offenders and criminals.
However, in a NAPOLCOM Resolution 2017-570 dated Oct. 30, 2017, the Tanauan City mayor was among the five local government executives in the Calabarzon Region included in the "narco list" and whose supervisory power and control over their respective police in their jurisdictions was withdrawn. (with reports from Robert Maico/PNA)