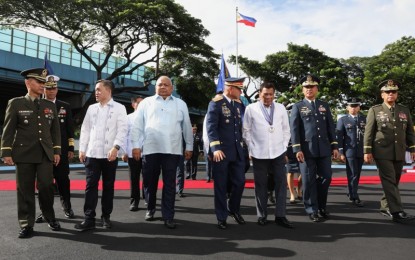 MANILA -- Philippine Air Force (PAF) head Lt. Gen. Galileo Gerard Kintanar expressed his appreciation to President Rodrigo Duterte for his commitment to modernize the military as proven by his signing of Horizon Two of the Revised Armed Forces of the Philippines Modernization Program (RAFPMP).
The PAF chief made this statement during the Air Force's 71st founding anniversary rites on Tuesday where Duterte was guest-of-honor and speaker.
It was held at the PAF Multi-Purpose Gymnasium, Villamor Air Base, Pasay City.
This year's anniversary theme is "Blue Team @ Top Speed Integrating Efforts in Regaining Air Defense Capabilities for Peace and Resilient Development".
"We express our appreciation to our Commander-in-Chief for his ready commitment to support the Second Horizon of our Modernization, which includes the acquisition of multi-purpose rotary and fixed-wing assets as well as unmanned aerial and ground-based systems," Kintanar added.
Also, the PAF chief lauded the efforts of all their airmen and the rest of the nation for making the Air Force stronger and more capable.
"Thanks to all our airmen, the PAF has grown better, stronger and flown higher and thanks to our people, our leaders and public officials who have kept the faith in us at the wings of our nation. We have continuously evolved and developed our capabilities according to our own PAF Flight Plan, throughout it all and against all odds we have consistently delivered with positive impact in all mission areas," Kintanar stressed.
Horizon Two is expected to run from 2018 to 2022. Funding for this program is roughly PHP300 billion.
Equipment slated for acquisition during this period are towed and self-propelled howitzers, multiple launch rocket systems, armored recovery vehicles, five support vehicles, tactical radios, ground mobility equipment (light, medium, heavy), individual weapons, crew-served weapons, and night-fighting equipment for the Army; multi-role fighters, radar systems, light and medium lift aircraft, heavy lift helicopters, unmanned aerial vehicles, helicopters (attack and combat utility), special mission and long-range patrol aircraft for the Air Force; frigates, corvettes, submarines, amphibious assault vehicles, anti-submarine helicopters, attack crafts, medium lift helicopters and multi-role vessels for the Navy. Also being eyed are combat engineer, force protection, explosive ordnance disposal, chemical biological radiological nuclear, humanitarian assistance and disaster relief and medical equipment.
The RAFPMP is divided into three horizons, with the first lasting from 2013 to 2017, the second from 2018 to 2022 and third 2023 to 2028.
Acquired during the First Horizon were the three Gregorio Del Pilar cutters, three combat utility helicopters for the Navy, two naval attack helicopters, six MPACs (multi-purpose assault craft), eight combat utility helicopters for the Air Force and refurbishment of two Lockheed C-130 "Hercules" cargo planes, two strategic sealift vessels, 12 FA-50 fighter jets among others. (PNA)