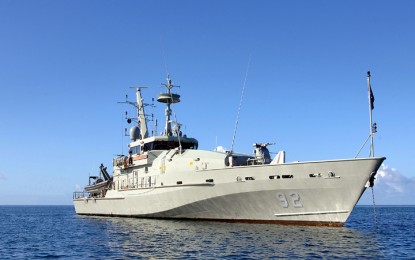 PUERTO PRINCESA CITY, Palawan -- Two Australian navy patrol boats arrived here Monday to participate in a Maritime Security Activity (MSA) to enhance training, interoperability, and cooperation against terrorism and kidnapping within Palawan's water lanes.
Captain Cherryl Tindog, chief of the Public Affairs Office (PAO) of the Western Command (Wescom), said the Royal Australian Navy (RAN) patrol boats will participate in the combined MSA with the Naval Forces West, Philippine Navy (Navforwest, PN) until July 25.
The activity aims to enrich the two navies' interoperability and cooperation in dealing with terrorism and kidnapping activities in water lanes that are of common interest to Australia and the Philippines.
The RAN ships – Her Majesty Australian Ship (HMAS) Ararat and Wollongong Armidale-class patrol boats – will perform side-by-side activities with BRP Ramon Alcaraz (FF 16) and BRP Simeon Castro (PC 374).
"There will be aboard ship training activities, maritime patrols, discussions on threats relating to maritime security, and others relevant to keeping areas of common interest safe," Tindog said.
She said the continuing conduct of joint activities such as the MSA with other navies has helped the country in preventing kidnappings and terrorism in the maritime domain.
She further expressed that there is nothing for Palaweños to worry about even with the mention of terrorism and kidnapping that the joint maritime security activity aims to address.
"Hindi dapat matakot ang public kasi the usual sila na ginagawa under MSA pagdating natin sa ganyang sitwasyon, alam ng Navy natin ang gagawin nila (The public has nothing to worry about because they are what are usually discussed in MSA, so that when we get to the situation, our navy knows what to do)," she said.
This year's PN-RAN MSA will hold interoperability exercises on Naval Communication System, planning, individual shipboard training, maritime surveillance, and search and rescue. The PN-RAN MSA 2018 is the 4th iteration of the said bilateral activity.
The activity kicked off with an opening ceremony at the Naval Station Apolinario Jalandoon Covered Court with Capt. Carlos Sabarre PN (GSC), deputy commander of the Navforwest, as the guest of honor. (PNA)