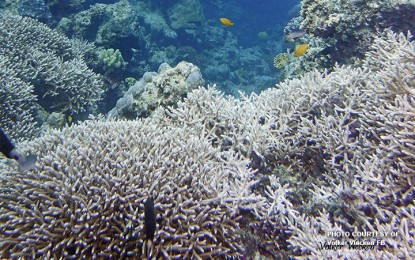 SYDNEY -- Australia's iconic Great Barrier Reef marine ecosystem is losing the ability to recover from damage, such as bleaching events, but managing the water flowing into the area and other local practices can help its recovery, according to latest Australian research.
The reef's recovery rate has been falling following the damaging bleaching, crown-of-thorns starfish predation outbreaks or cyclones from 1992 to 2010, even before the repeated bleaching events in 2016 and 2017, scientists from institutions, including the University of Queensland and Australian Institute of Marine Science, said in a statement on Thursday.
Coral bleaching occurs when the reef colonies lose their vivid color in waters that are too warm for the microscopic algae living in them, with sustained bleaching leading to coral death.
Average coral recovery rates have recorded a sixfold drop across the Great Barrier Reef, "the first time a decline in recovery rate of this magnitude has been identified in coral reefs," said the institute and university's Dr. Juan Ortiz, lead author of the findings published in the Science Advances scientific journal.
"Chronic pressures," like poor water quality and climate change, are part of the combination of "acute disturbances" driving the decline, said Ortiz.
However, there is scope for management to help remedy the situation, said the university's Prof. Peter Mumby.
"Our results indicate that coral recovery is sensitive to water quality, and is suppressed for several years following powerful cyclones," he said. "Some reefs could improve their recovery ability if the quality of the water entering the reef is actively improved."
Careful local management of resources to reduce the chronic disturbances to the reef and support its recovery, as well as strong global action to limit the effects of climate change, is key to the marine ecosystem's survival, said Ortiz. (Xinhuanet)