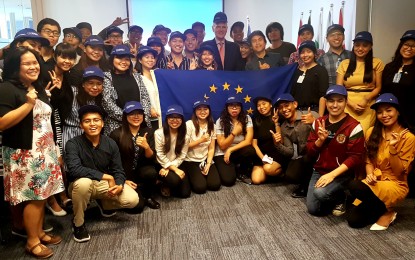 MANILA-- A total of 39 Filipino students will pursue higher education studies in Europe under the European Union's (EU) Erasmus+ Programme.
The Erasmus+ Programme is EU's funding scheme, which allows applicants to pursue Master's and Doctorate degrees in different universities across the European continent.
With dozens of Filipinos flying to different EU member states, EU Ambassador to the Philippines Franz Jessen expressed optimism that the Filipino scholars will be "agents of change" to help strengthen the EU-Philippines partnership.
In a recent reception held for the outgoing Erasmus+ students on July 16, Jessen urged the scholars to become ambassadors of goodwill in their own ways.
He also encouraged them to give back to their country after they finished their programme in the EU.
The scholarship allows students to study in more than one EU country for one to two years, giving them the opportunity to benefit from the academic expertise and culture of more than one university.
The Erasmus+, formerly called the Erasmus Mundus Programme, also promotes the EU as a center of excellence in learning and making student mobility a reality for EU and non-EU citizens alike.
Thelma Gecolea, press attache of the EU Delegation in Manila, told the Philippine News Agency on Friday that the students are set to depart from Manila within August and September 2018.
August is the initial orientation month for those who got their Erasmus+ application approved.
Since 2004, more than 300 students and lecturers benefited from the program, which covers air travel to Europe, tuition fees, and a monthly living allowance. (PNA)