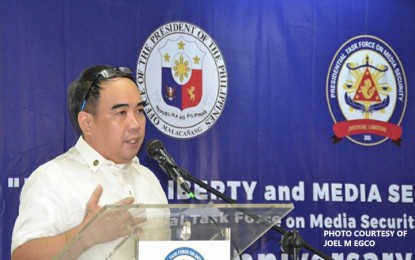 BAGUIO CITY – Presidential Task Force on Media Security (PTFoMS) Executive Director Joel Sy Egco said addressing the security issues of the media must involve improving their living conditions without resorting to either "regulation" or "accreditation", which, he stressed, are both "wrong."
Undersecretary Egco, in a recorded interview here last July 20, cited the need to strengthen the industry and remove the vulnerabilities that media workers face.
In sharing his views on "labor issues" besetting the media, Egco said his desire as a former media leader himself is to give dignity to the profession by strengthening the industry and addressing vulnerabilities.
"Ayaw ko ng regulation, mediaman din ako eh (I am also a mediaman, I do not want regulation)," he categorically said in a brief talk with reporters during the PTFoMS "Seminar on the implementation of the Operational Guidelines of Administrative Order 1."
AO 1, which was signed by President Rodrigo Duterte on Oct. 11, 2016, created the PTFoMS to address violations of the right to life, liberty and security of the members of the media.
Egco rose from the ranks as a cub reporter to becoming assignments editor and chief of reporters of The Manila Times.
Prior to joining the government, he was president of the National Press Club.
"How do we address those vulnerabilities para patibayin yung industry. Hindi para alisin yung mga tao pero para patibayin, lagyan mo ng dignidad yung profession (How do we address those vulnerabilities so that we can strengthen the industry? Not to remove or terminate people, but to dignify the profession)," Egco reiterated.
During the interview, one Baguio reporter noted that the issue on salaries and wages that media practitioners receive may make them susceptible to "corruption" and "politics", which may endanger themselves.
Egco cited an old bill in Congress, the Magna Carta for Journalists, which never prospered for reportedly being outrightly unacceptable.
"Dati may Magna Carta for journalists, tinurn-down natin. Why? Walang nakasaad kung magkano ang sweldo. Nire-regulate [ang industriya], ayaw ko din yun (Before there was a Magna Carta for journalists which we turned down because it did not mention the salaries. Regulating, I don't want that too)," he added.
"Hindi mo pwedeng sabihin kung sino lang mag-practice, accredit or not accredit. (You cannot dictate who can practice, accredit or not accredit.) That's wrong!," he said.
Learning from past failures where "regulation" was used to professionalize the media, Egco said he will propose to media experts and other partners in the industry a "classifying examination" to evaluate the wages and benefits package commensurate to the experience and skills level of the media worker.
The "evaluation" may be done bi-annually so that there would be enough time for training before retaking the said test until a media worker has attained the highest skill certification.
He said there will be no passers or flunkers since all takers would be deemed qualified.
"Wala namang bagsak sa test eh pero makikita ang skills mo, made-define na natin yung mga benefits at saka classification. That's professionalizing our ranks (There will be no failing grade, but the exam will show your skills and will define your benefits and classification)," Egco said.
He likened it to the salary grade of those in government where a skill has an equivalent position that determines salary grades.
"Walang babagsak sa exam, ika-classify ka lang (to determine what package of benefits is commensurate). Ganun lang naman yun, malalaman mo kung saan ka nararapat (You will know where you should be)," Egco added.
He said he envisions "all journalists in the Philippines to be of high, world-class standards."
Egco noted that media work is not an "8 to 5" job, and that it should be rated at par with the level of professionals like doctors and lawyers.
When asked if the plan would be effective in addressing the issue of fly-by-night or "hao-shiao" media, Egco replied: "Yung mga hao-shiao, yung sinasabing pinabili lang ng suka, mawawala na yun pero may mga hao-shiao na kukuha ng exam, hindi mo mapagbawal yan. Kung pumasa, eh hindi na siya hao-shiao (The 'hao-shiao', who are referred to as those sent to buy vinegar and immediately became media practitioners, will no longer exist as they too can take the exam without prohibition to classify them and remove the hao-shiao tag)." (PNA)