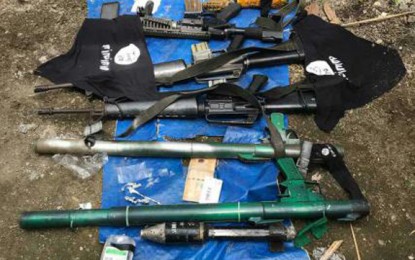 ZAMBOANGA CITY -- An alleged member of the Islamic State-inspired Maute Group was killed and high-powered weapons were seized following a firefight in Lanao del Sur, a top military official announced Thursday.
Maj. Gen. Roseller Murillo, the Army's 1st Infantry Division commander, did not disclose the exact place of the clash because it was an operational matter but said it happened in the town of Masiu, Lanao del Sur at about 9 a.m. Thursday.
Murillo said the 10-minute firefight resulted in the death of Zainal Candidato.
The firefight erupted as troops of the Army's 49th Infantry Battalion raided the lair of Panarigan Tama Baoraki, alias Golden Boy, and Hadji Rasul Amimbering in Masiu, based on information from civilians.
Murillo said the two are leaders of an armed group with ties to the Maute Group operating in Lanao del Sur.
He said Baoraki, Amimbering, and their followers fled to different directions.
There was no casualty among the troops, Murillo said, adding that they seized three M-16 Armalite rifles; two Rocket-Propelled Grenade launchers; two grenades; two Islamic State flags; six sachets of suspected methamphetamine hydrochloride commonly known as "shabu"; a cellular phone; and other illegal drug paraphernalia.
"I commend the people of Lanao del Sur, for reporting the presence of the Maute-IS terrorists, and the troops of JTF ZAMPELAN (Joint Task Force Zamboanga Peninsula and Lanao) for swift and decisive action that led to the successful operations," Murillo said.
"Preventing and countering violent extremism is a shared responsibility of all members of our society but primarily of the people in the communities. These terrorists seek to destroy our way of life," he added. (PNA)