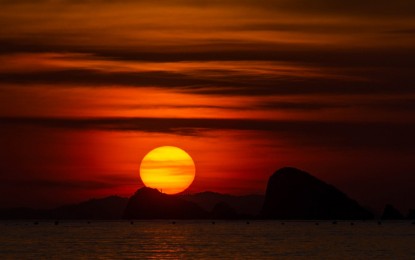 PUERTO PRINCESA CITY, Palawan – The number of travel and tour retailers in this capital city of Palawan, now at more than 100, continues to increase -- undeniably, because tourism is a major contributor to the province's economy.
Travel and tour operators have mushroomed in the city, but more so in the global computer network, including fraudulent ones, offering a multiplicity of information about what could be an itinerant's dream travel in Puerto Princesa and the province.
A lot of them, but not all, offer matchmaking tour services to let travelers express what they truly want to do, for instance, explore the unbeaten tracks, or for the elderly, simply enjoy a day near the river, which does not require much walking.
This is where the eco-tour agency, Wild Expeditions Palawan (WEP), comes in. The WEP, owned by local travel operator and entrepreneur Rommel Cruz, focuses on nature-themed activities -- from the easy treks to the more enthusing sea-to-summit journeys and wildlife documentaries.
The agency's kind of tour is so far unparalleled in that it strictly follows the "Leave No Trace" principles in the conduct of its business.
Cruz said with the rising influx of visitors in this city and the municipalities of Palawan, it is now essential to highlight the "leave no trace" principles to guests to let them know they have a shared responsibility in taking care of the natural and cultural sites they visit.
"Tourism is good, but if not well managed, has the possibility to cause negative impacts in the balance in our environment. All kinds of tourism activities, if poorly supervised, can result in a range of damage to our environment – the wildlife -- and eventually, the people that live in it," he said.
The "leave no trace" principles are "no sweat," he said, noting that they depend a lot on the travelers' awareness, more than rules and regulations. These principles include planning ahead and not rushing tours in an effort to gain higher income; not stamping on sensitive vegetation and weak surfaces; bringing trash back home; leaving what you find alone; zero tolerance for having campfires; keeping noise down to respect wildlife; and being a considerate travel retailer by maintaining group numbers in manageable sizes.
"Leaving no trace is a responsibility that should be shared between the travel managers and the guests. It should be stressed enough so nobody forgets or they will be causing the degradation of the natural environment they're visiting. Just think about their numbers multiplying," Cruz said.
Birds and the birth of WEP
Cruz's knowledge and passion about the environment began 12 years ago at the Katala Foundation, Inc. (KFI), which works on the conservation of the Philippine cockatoo (katala), and other wildlife species, such as the pangolin (balintong) and the endemic and critically-endangered Palawan forest turtle.
One of his assignments was to be a bird guide for enthusiasts who want to see the Philippine cockatoos in their habitat on Rasa Island, Narra in southern Palawan.
"Halos lahat ng experiences ko sa environment, sa biodiversity, doon nag-start. Once in a while, nagle-lead ako ng birding tour as a freelance guide. One of my assignments is to assist bird watchers in going to Rasa Island. Doon ako natuto na, okay, may potential pala itong ginagawa ko (Almost all my experiences regarding environment, biodiversity, began there. Once in a while, I led birding tours as a freelance guide. One of my assignments was to assist bird watchers in going to Rasa Island, and I learned that, okay, what I'm doing has a potential)," he said.
From KFI, Cruz transferred to work with other non-government organizations, and his last was with the Palawan Council for Sustainable Development Staff, which is tasked to provide machinery and synchronize the policy and functions and implement programs of the Council.
While there, he realized that the bird watching tours he was doing on the side have the potential to earn him profits.
"WEP really started as that kind of outfit. We focused on offering bird watching tours in Palawan, and the value that we strictly implement in our business leaves no trace," he said.
Cruz can legitimately claim that in the province, he is an authority on birds. To date, he holds the knowledge on where to observe 24 endemic bird species in the forests of the province.
During the 2016 Big Year, an international challenge among birders to find many bird species that they could identify, Cruz's company handled the Palawan leg for Dutch national Arjan Dwarshuis, who owns the world record for spotting 6,852 species in a single year.
"I've seen all the endemic birds depending on taxonomy, and the hardest to see are those in the mountains. There is one bird that is restricted to high elevation in Victoria's Peak and Mt. Mantalingahan at 1,000 meters up. It's where you can see it. It's called (the) Palawan striped babbler," he said.
Cruz holds too, the record in the Philippines for the first sighting of the migratory bird grasshopper warbler at the Puerto Princesa Underground River last year.
This was far from the past when bird tour companies had to go to the Philippines and to Palawan themselves to guide hobbyists.
"We started from there, we thought we can do this, and then we asked two companies outside the country if they want to buy packages from us, which is cheaper and with local knowledge where birds can be found," he said.
In 2015, when he established WEP with half-a-million-peso capital, it was challenging as it was new in the field of travel and tourism, but over time, international birding tour agencies began to trust his venture.
Birds are sensitive to human disturbance, therefore, they are ecological indicators. Cruz said they are sensitive to changes in the environment that is why in his bird tours, he often tells first-timers not to wear colorful outfits to blend into the habitat they would be exploring.
Although many birds are used to loud natural sounds, they do not like noises caused by humans and their machines.
"We always maintain a minimum amount of people in the group (in) the bird tours we do because as much as possible, we want to maintain overall habitat quality. In a group, there'd be around six to eight people only," he said.
Traveling and environment conservation
The yearning to travel and see places that people have not seen before is a challenge in balancing the preservation of the environment, Cruz said.
Travelers from developed nations, he said, are more experienced than those who come from evolving nations, whose awareness of environmental protection, of valuing the resources of the places they visit, is low.
Environmental protection is a "no-brainer" for Palaweños, but Cruz acknowledged that there are still those who simply do not care and do not have values in preserving tourism sites, which leads to pollution and damage in famed destinations.
If this situation continues, he said, these important settings might be lost as no tourist would visit polluted sites to enjoy their holidays.
In WEP's travel and tours, Cruz said they always bring in Palawan's efforts and initiatives to protect its environment and its wildlife since they can be balanced with traveling.
"We don't go too technical or scientific. That's boring. We discuss them using simple language, especially to first-time travelers, who have no background about environmental conservation," said Cruz.
When they do river and wilderness camps, they do not allow guests to wash in the river using soap and shampoo as most rivers are drinking water sources for communities downstream.
They go as far as providing their guests with biodegradable wash kits that have minimum impact on the environment, and they dig "cat holes" in wooded areas in case nature calls.
"No campfire is allowed during our beach camps because they stain the sand, and generally, we consider the soil characteristics. In forests, they're a no-no because they can create wildfires and irreparable damages," he added.
Cruz, whose WEP is the first local tour company to be allowed to bring guests for bird watching at the Tubbataha Reefs Natural Park, said "zero tolerance is zero tolerance" when it comes to promoting tourism and environmental protection to shelter important sea and summit habitats.
"In Tubbataha, there is an islet that is so beautiful with so many birds, but the management does not allow people to step on it. So, we do not allow our guests as well. We observe the birds on the dinghy only. There are newly hatching bird eggs on the sand, and if people step on it, they might step on the little birds," he said.
Christopher Conde, WEP's travel outfitter and tour leader, said he could not go mountain climbing without first telling guests that they follow "zero tolerance" when it comes to environmental protection.
Mountaineers and river camp trekkers are not allowed to dispose of their chewing gum or candy wrappers in stone corners or bushes because that would leave a waste trace.
"Ultimo wrapper ng candy o chewing gum, hindi puwedeng itatapon lang kung saan sa bundok, or singit-singit sa mga bato. Lagi namin pinapaalalahanan na zero tolerance kami at sumusunod naman sila bilang respeto (Even candy or chewing gum wrappers, they cannot just throw them away in the mountain or stick them between grits. They are always reminded that we strictly adhere to the 'leave no trace' as respect for the environment)," he said.
Conde said every time he scales Victoria's Peak in Narra, and Mt. Cleopatra's Needle, Mt. Beaufort, Mt. Thumb Peak, and Mt. Salakot in Puerto Princesa, he never gets tired of repeating the same environment conservation initiatives WEP has.
Bringing trash bags are common in WEP's travel practice, particularly in mountain treks and climbing because they use them to collect any trash they find along the way.
"Kung may madaanan na basura sa bundok, pinupulot namin. Sanay na iyong mga returning clients namin sa practice (If we pass by any trash, we pick them up. Our returning clients are used to this)," he said.
Travel and tour responsibilities
Puerto Princesa City Councilor Matthew Mendoza, chair of the committee on tourism, said there is a compelling need to ensure that all travel and tours operators know about how to promote tourism and environmental protection together.
Everyone, he said, even tourists visiting the city, have to be urged to participate in schemes to protect the environment. If they are not aware, they must be made conscious to preserve the places where they travel.
Travel and tour companies in Puerto Princesa are aware of this, Mendoza said. However, he is not aware yet if they frequently bring the "leave no trace" principles into the consciousness of touring groups due to the number of guests.
"It is important in the balance in our ecology that travelers are aware of how they should conduct themselves when they are in our natural sites. I am considering filing a resolution regarding this 'leave no trace' tourism to ensure that the practice among our stakeholders is not just for marketing and promotions, but that they are actually doing it," he said.
John Stephen Tuboc, who has been working as a freelance travel guide with tour agencies and has worked with Cruz a number of times, said as far as he is aware, every accredited and certified tour guide like him in Puerto Princesa knows about it.
However, there are also those who never underwent any seminar on tour guiding being given by the Department of Tourism (DOT). Tuboc said he is not sure how they brief their guests.
"Kami alam namin iyan kasi part iyan ng certification namin as tour guides. Sini-set namin na example lagi ang mga efforts to save the environment pero di namin alam sa iba na di accredited kasi may mga nag-ga-guide din naman nag-exam (We know it because it is part of our certification as tour guides. We set an example of the efforts to save the environment, but we don't know about those who are not accredited because there are some who did not take their exams)," he said.
As a travel and tour retailer, Cruz wants Wild Expeditions Palawan to be different when it comes to helping guests who want to explore the city's and province's natural sites.
"It would be nice for our tourism industry if every travel and tour is bringing the 'leave no trace' awareness in doing business. There should be zero tolerance in bringing guests to natural sites. It's like letting us not compromise the environment just because we want to earn so much income because if we lose it, we will have nothing in the first place," he said.
Currently, Cruz is studying the probability of offering cultural immersion tours in indigenous cultural communities to promote Palawan's unique customs and traditions.
He added they are sensitive in studying the possibility since they do not want to create a demand for the indigenous peoples (IPs), all because there are guests to please.
"If you want to see them, you live with the tribe, you learn from them. Again, responsible tourism because we don't want them going down just to be seen by our guests. They have to be appreciated in the environment where they live," Cruz said. (PNA)