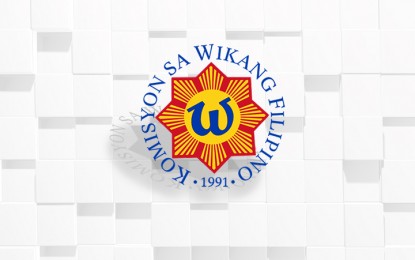 MANILA -- The Komisyon sa Wikang Filipino (KWF) kicked off this year's Buwan ng Wika celebration with a call for cultural agencies to increasingly undertake research using the country's national language, Filipino, and other Philippine languages.
The KWF made the call, acknowledging such languages' use in research remains a challenge.
"Beginning today, let's fulfill our duty to undertake cultural research and impart knowledge from this," KWF Commissioner Purificacion Delima urged government's cultural workers at the symbolic flag-raising ceremony that kicked off the annual Buwan ng Wika celebration on Monday.
Proclamation 1041 series of 1997 proclaimed August of every year as Buwan ng Wikang Pambansa or National Language Month.
The KWF's Board approved a resolution setting the monthlong celebration's theme as "Filipino: Wika ng Saliksik" (Filipino: the language of research).
The theme reflects KWF's bid for intellectualization of Filipino, noted Delima.
"The theme aims at further promoting the use of Filipino as the medium for creating and imparting knowledge in various disciplines, particularly the sciences," she said.
The government's cultural workers, who attended the symbolic flag-raising ceremony pledged to help promote the Filipino language.
They committed abiding by the 1987 Philippine Constitution and EO 335 series of 1988, which both promote the use of Filipino language.
The 1987 Constitution set Filipino as the country's national language.
As Filipino evolves, the Constitution provides that this language "be further developed and enriched on the basis of existing Philippine and other languages".
"Subject to provisions of law and as the Congress may deem appropriate, the government shall take steps to initiate and sustain the use of Filipino as a medium of official communication and as the language of instruction in the educational system," the Constitution reads further.
EO 335 supports such constitutional provision, enjoining all government instrumentalities to enhance the use of Filipino in official transactions, communication, and correspondence.
This week, KWF will spearhead in Metro Manila its Kongreso sa Wika (language congress), which is among the events for the 2018 Buwan ng Wika celebration.
KWF also said various schools around the country will hold this August their respective informal literary gatherings, featuring discussions aligned with the celebration's theme.
Such gatherings, called "tertulyang pangwika", are aimed at helping further promote the use of Filipino and other Philippine languages, particularly in research. (PNA)