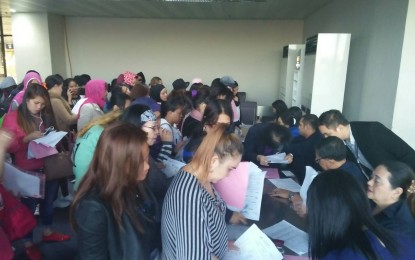 MANILA -- The Department of Science and Technology (DOST) is developing a package assistance for the overseas Filipino workers (OFWs), who plan to put up a technology-based enterprise, and those who might need technical assistance, Department of Science and Technology (DOST) Secretary Fortunato Dela Peña told the Philippine News Agency (PNA) Friday afternoon.
"We just had a meeting regarding this (assistance) this afternoon, and we came up with three plans," he shared.
First, the DOST will create and disseminate brochures to the OFWs. These brochures will contain the DOST's services that they can avail of in case they want to put up a business, or if they want a retraining.
"We will provide them with orientation, depending on their decision if they would like to put up a technology-based enterprise. We will brief them first, then there might be a need to tour some of them in our facilities," he continued.
Once an OFW has decided, the DOST will offer them technical assistance and training related to agricultural enterprise and manufacturing.
Dela Peña explained that the Philippine Council for Agriculture, Aquatic and Natural Resources Research and Development (PCAARRD), a DOST-attached agency, could help the OFWs on businesses related to livestock and aquaculture.
Another DOST-attached agency, the Industrial Technology Development Institute (ITDI), can help in food processing and other manufacturing technologies, he added.
"PCIEERD (Philippine Council for Industry, Energy and Emerging Technology Research and Development) also offers assistance to start-ups. For returning OFWs, meanwhile, who already have a business here might apply for the SETUP (Small Enterprises Technology Upgrading Program)," he added.
SETUP is DOST's program to assist the micro, small, and medium enterprises (MSMEs), helping them improve their productivity and competitiveness by providing them a loan that is payable in three years.
But they must be at least three years in the business before they can apply for the SETUP program.
OFW desks
Dela Peña said the DOST also plans to put up OFW desks to help OFW professionals or groups market their products or services.
"There are OFWs and OFW groups working in science and engineering. We will help them market their services, and provide them with technical assistance they need," he said.
The DOST chief said he gave his team the end of August as deadline for this planned OFW assistance. (PNA)