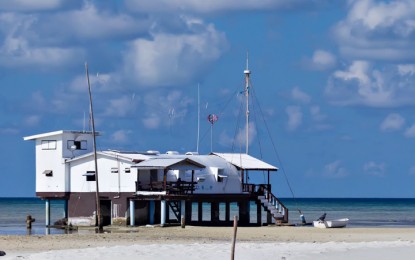 PUERTO PRINCESA CITY, Palawan -- Back in 1981 when diver Angelique Songco first went to the Tubbataha Reefs Natural Park (TRNP), she was mesmerized by its beauty but was also worried by the rampant use of illegal fishing methods that were destroying its marine environment.
In an interview with the World Wildlife Fund (WWF) Global in 2015, Songco said in the years she was going back and forth to the UNESCO World Heritage Site, she had observed fishermen using dynamite and cyanide, and poaching turtles and birds and their eggs.
Some of the fishermen came from as far as Quezon province, which is 600 km. away from Palawan.
"It was a sad state of affairs because there was no enforcement to speak of," Songco said. She was convinced that the marine area needed protection despite not understanding its ecological value.
In 2001, Songco applied to the Tubbataha Management Board (TMB) to become park manager. She was employed by the WWF to hold the position because the board had no fund to pay her salary and establish an office.
Last Saturday, the Tubbataha Management Office (TMO) that Songco heads commemorated the 30th year anniversary of the establishment of the world famous reefs as a marine protected area with a photo exhibit at the SM City Puerto Princesa.
"Since we cannot bring everyone to Tubbataha, we are bringing it to them here to show what it's like through these photos that were taken by Filipino photographers," she said.
New park ranger station
During the event, a representative of the Palawan government reiterated the plan to construct a new PHP220-million state-of-the-art ranger station in Tubbataha, which is within the municipal jurisdiction of Cagayancillo municipality.
Songco said the provincial government is just waiting to complete the fund, which still requires about PHP50 million, to begin construction "hopefully next year."
"The construction of the park ranger station is a project of the provincial government. They will be the ones to determine when they will start. About PHP50 million is still needed. But we have to understand that it's difficult to construct because Tubbataha is far and no one wants to accept the project," she said.
The TMO is expecting that next summer, the construction of the new park ranger station will already materialize and that the provincial government can help transport the construction materials.
The proposed park ranger station is hexagon-shaped and will feature a glass dome, a helipad, a 360-degree view of Tubbataha, overhanging rain troughs, a visitor's center, a mini-museum, and stepladder planters for vegetable production. It was designed by WWF consultant Dylan James Melgazo.
Songco said it will increase the rangers' capacity to safeguard the marine park in the Sulu Sea, which has already suffered from destruction due to two ship groundings in previous years.
Dominic Fresnillo of the Provincial Information Office (PIO), who represented the provincial government in the event, said Governor Jose Alvarez is resolute in constructing the new park ranger station.
"It will push through and it's worth PHP220 million. We've seen the design, and it would be something pre-fabricated so when it gets there, it will just be assembled. I think the governor has seen its design," he said.
His reiteration of the provincial government's commitment to construct the park ranger station was welcomed by ranger Noel Bundal, who has been taking care of the 97,030-hectare reef area for 18 years.
"Kahit malayo kami sa pamilya namin at malungkot kadalasan, ito na ang pinili namin na propesyon yong alagaan ang Tubbataha. Kung magkakaroon ng bagong park ranger station, magiging masaya kami dahil mas mapapabuti namin ang serbisyo pa (Even if we are far from our families and we are often sad, it is our profession's duty to take care of Tubbataha. We would be glad to get a new park ranger station as this would help us do our jobs better)," Bundal said.
Tubbataha Big Five
The vibrancy of life in Tubbataha, which was inscribed as a UNESCO World Heritage Site in 1993, is said to be the marine version of the rich African savannas.
Former WWF-Philippines president, Lory Tan, suggested years ago that the park comes up with a marine version of this that will be called the "Tubbataha Big Five."
They are iconic species of the sea in Tubbataha that will symbolize the robust and balanced marine ecosystem in the area.
"Their continuing presence will tell that there is adequate food to support them and that the reef is healthy," Songco said.
These species are the Tiger shark (Galeocerdo cuvier), an apex predator used to be common in Philippine waters but is now mostly seen in Tubbataha; the Dogtooth tuna (Gymnosarda unicolor), also an apex predator that is a commercially-important species; the Giant manta ray (Mobula birostris), a vulnerable-to-extinction ray that is magnificent to watch when gliding through the water; the Hawksbill turtle (Eretmochelys imbricata), a critically endangered and world protected marine turtle; and the Napoleon wrasse (Cheilinus undulates), a coral reef dweller fish that is now in danger of extinction.
"When you see these five species in Tubbataha, that means the marine ecosystem in the area is well-balanced, and that it has enough food to take care of them and keep them safe," she said.
No plastic bottle allowed
Songco said that after 30 years of marine protection, Tubbataha is now one of the best-managed marine protected areas in the world after being awarded last year by the Global Refuge Ocean Refuge System (GLORES).
"What else do we want? What we want is to keep it (Tubbataha) there, to maintain it there. But we cannot maintain it by just relaxing, we have to continue our work," she said.
Right now, Songco said Tubbataha is also feeling the brunt of too many plastic wastes drifting and being collected even underwater by park rangers.
Plastic water bottles and other kinds are no longer allowed in Tubbataha, an advice they have communicated earlier to dive boats that bring guests to the area as everything "turns out in the ocean in the end."
"We have banned plastic bottles and straws in Tubbataha with diver operators. They said they will support because, certainly, nobody wants to see wastes in Tubbataha," she said.
The exhibit at SM City Puerto Princesa is offering the use of 360-degree virtual goggles, courtesy of the 2016 visit of Prince Albert II of Monaco, who commissioned the development of a video of his trip in the format for the Oceanographic Institute of Monaco and for donation to Tubbataha.
It also paved the way for Tubbataha to recognize the invaluable contribution of various personalities, groups, and organizations, through the "The Tubbataha Big Five Awards".
The recipients of the awards are Marvi Trudeau, program director of Pilipinas Shell Foundation, Inc. (PSFI) in Palawan; videographers and photographers Marissa Floriendo and Ma. Teresa Lara; Patricia Zobel de Ayala, Honorary Consul to Monaco; David Huang of Digichive, one of the country's successful advertising agencies holding major contracts in major airports for mounting photos of Tubbataha; photographer and Discover Fleet operations manager Yvette Lee; and former 1st Palawan House representative Antonio Alvarez, who was vital in the enactment of Republic Act No. 10067, or the TRNP Act of 2009.
The Tubbataha Act won the 2012 Future Policy Award as an "example of successful coral reef conservation and a mode for action." (PNA)