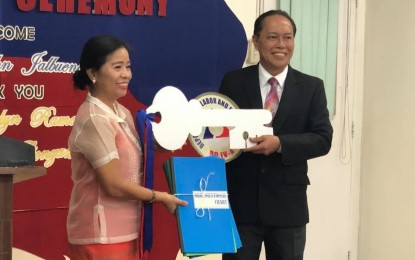 CALAMBA CITY, Laguna – Newly appointed Department of Labor and Employment (DOLE) Calabarzon Regional Director Henry John S. Jalbuena vowed to achieve their 2018 target of regularizing 39,000 workers "the soonest possible time" as one of his service thrusts.
DOLE Calabarzon's Planning Unit told the Philippine News Agency on Monday that Jalbuena will also focus on employment and human resource development, as well as the employees' welfare.
Jalbuena vowed to simplify processes to achieve Philippine Quality Award, the highest level of national recognition for exemplary organizational performance, during his stint at the regional DOLE office here.
Jalbuena succeeded former DOLE IV-A regional director officer in charge (OIC), Atty. Evelyn R. Ramos, who was assigned as DOLE Assistant Regional Director (ARD) in the National Capital Region (NCR) on Aug. 6.
Jalbuena, who hails from Ma-asin, Iloilo, has served as DOLE Regional Director IV of Region 1 (in 2010 to 2012), Cordillera Administrative Region (CAR, from 2012 to 2016), RO 6 (2016 to 2017) and the NCR from 2017 to 2018.
He was a recipient of the "Best Regional Director" award in 2015 of DOLE and the Presidential Lingkod Bayan Award: Child Labor (group category) in 2016. (PNA)