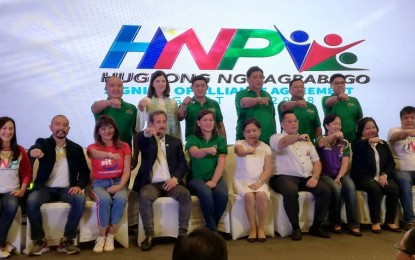 MANILA -- Hugpong Ng Pagbabago (HNP), a young and fast-emerging regional political party from Davao, on Monday formally forged an alliance with nine political groups, three of which were national parties.
HNP chairperson and Davao City Mayor Inday Sara Z. Duterte clarified that the alliance was made - not for her political ambition - but to give different groups a chance to support the advocacies of her father, President Rodrigo Duterte.
"I'm not running for senator. We're just really trying to unite everybody who wants to help the administration of President Duterte until 2022," the presidential daughter said in her speech during the signing of the alliance agreement in Parañaque City.
The three national parties that have allied themselves with HNP are the Nacionalista Party (NP), National Unity Party (NUP), and the Nationalist People's Coalition (NPC), which are among the biggest political parties in the country.
On the other hand, the six local political groups are the Bohol-based Alyansa Bol-anon Alang sa Kausaban (KABAKA); Aggrupation of Party for Progress (APP) from Zamboanga del Norte; Ilocano Timpuyog from Ilocos Norte; Pampanga Kambilan; PaDayon Pilipino from Region 10 (Northern Mindanao); and Serbisyo sa Bayan Party (SBP) from Quezon City.
Mayor Sara said the alliance would help politicians at the local level to find a national political party they would want to join.
"This is our solution to those who are not residents of Davao region," she said in a media interview.
Mayor Sara said the HNP was formed as a regional political party only last February after politicians outside Davao City expressed their intention to join the Hugpong ng Taong Lungsod.
"Officials from other municipalities and cities in the region asked me if they can join the Hugpong ng Taong Lungsod but I told them we cannot help them because we are limited only to (our) area of responsibility (in) Davao (City)," she explained.
The HNP, she said, eventually decided to ink an alliance with political parties outside Davao as more groups, this time outside the region, also expressed their intention to be part of HNP.
"I brought it up with the leaders of the region and they said we cannot say 'no' to the people who wanted to help our President. So they said, and it (HNP) is their brainchildren, we will have alliances with national parties so that those who have no national parties, they can now choose if they want (to be an) NPC, NP or NU member," Mayor Sara said.
She told the media that President Duterte has no role in the new alliance agreement but "we would like to have an alliance" with the ruling Partido Demokratiko Pilipino–Lakas ng Bayan (PDP-Laban).
"But our governors and other leaders said they (PDP-Laban) have to settle (their) internal problem. So once it is settled by the President, then we will open because we need other national parties that are allied (with the President)," the Davao City mayor said.
When asked if HNP is also open to possible alliance with the Liberal Party of former President Benigno Aquino III, Mayor Sara replied, "The LP group is not supportive of the direction of President Duterte."
"So the reason why we have this alliance, the reason why we are united together is because we want to support the term of President Duterte until 2022," she said.
She noted that she nearly cancelled the signing of the alliance agreement to sympathize with the thousands of people affected by widespread flooding caused by the southwest monsoon rains in Metro Manila over the weekend.
"Many have complained because some were already here in Manila since Saturday and they have already spent a lot. So I would like to express my apology for the timing," she said, adding that partners of the alliance have raised PHP1 million in financial assistance for the flood victims, particularly in Quezon City and Pampanga.
Mayor Sara handed the financial aid to Pampanga Governor Lilia Pineda of Kambihan and Quezon City Vice Mayor Joy Belmonte of SBP.
Thanking the representatives and members of each political group for coming despite the bad weather, she said: "We truly appreciate your coming to support the alliance signing."
Aside from Pineda and Belmonte, Senator Cynthia Villar also came over to sign the agreement for NP; Zamboanga del Norte 1st District Rep. Seth Frederick Jalosjos for APP; Ilocos Norte Governor Imee Marcos for Ilocano Timpuyog; House of Representatives Deputy Speaker Fredenil Castro for NUP; Mark Llando Mendoza for NPC; Nadya Emano-Elipe for PaDayon Pilipino; and Norris Oculam for ABAKA. (PNA)