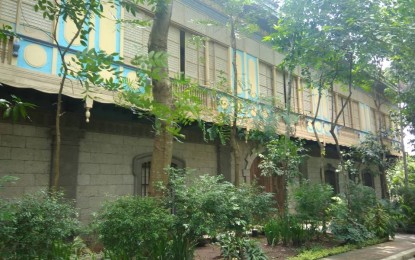 DASMARIÑAS CITY, Cavite – From the outside, it is just an unassuming 2-storey "Bahay na Bato" (stonehouse).
But it is different when you step in.
The 2,000-square meter building hosts a visual feast of antique family heirlooms from furniture, decorative objects, fine and applied arts displayed in faithfully recreated rooms – which are donated by or on long-term loan from collectors.
If one fancies antiques and curious on the way of life of the "ilustrados", Museo De La Salle (MDSL), an in-campus lifestyle museum of De La Salle University here, is a must on the bucket list.
The displays will certainly leave participants in awe as these offer details reflective of the lifestyle of this special class of people.
MDSL Director Cecille Torrevillas-Gelicame boasts of the museum collection, comprising 4,384 pieces of objects.
"Most of which depict the 19th century or Hispanic colonial period in the Philippines, and a few pottery collection dating back to pre-colonial Philippines," she said.
The 18 year-old museum, which first opened to the public in year 2000, "has been realized to encourage its own use in cross-disciplinary learning and growth in academic environment."
It was envisioned by its founder, Bro. Andrew Gonzalez, FSC, to be a repository - not only of heritage objects - but a landmark cultural institution and a learning space as well, where one can learn about Cavite and Philippine culture.
As Museo continues to be one of the lead museums in heritage preservation in South Luzon, it updated its mission statement in 2017 into "Museo De La Salle: Preserving Culture. Creating Possibilities" whose vision-mission statement states its directions to take, as "a sustainable center that is committed to the safeguarding and promotion of the country's cultural heritage through its educational programs. That its leadership in the region aims to develop informed communities that hold a profound regard for nationhood."
The museum also provides a living space where Philippine culture that is linked to its immediate community and which reaches out to the outside is illustrated.
"As we dedicate ourselves in gathering collectible objects of intrinsic value significant to the preservation of certain aspects of Philippine illustrado lifestyle, MDLS also would like to be recognized as a resource center for heritage preservation through education," Gelicame said.
The campus-based museum also commits to promote the interests of museology and continuously uphold appreciation of the culture and the arts through engagements in special events, from exhibitions, lectures under its "Art Talk and Heritage Talk Programs", workshop and capacity building and museum education programs, "of course, other than constant collaborations with other museums," Gelicame added.
The second level gallery is subdivided into meeting, prayer, master's bedroom and office rooms, and dining and event hall reminiscent of the 19th century Philippine Illustado lifestyle.
The display areas are restricted but guests may still get their 'instragrammable' or 'selfie' pictures in the allowable, public areas.
Entrance to the museum comes for a fee, and it is open Tue-Sun, from 8 a.m. to 4 p.m. (PNA)