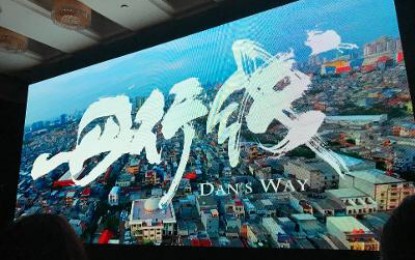 BEIJING, China -- ASEAN diplomats, attaches and media professionals convened Saturday for the presentation of the first large-scale documentary focusing on cultural exchanges between the ASEAN bloc and China.
The ASEAN-China in partnership with Nanning Municipal Government and Eleven Media presented the Dan's Way documentary at the Crowne Plaza Beijing in a bid to tackle the importance of the rich culture and cooperation between the two parties.
"Knowing culture is vital in order to make people move. If we could make them move definitely people will be motivated and act accordingly," said Su Ming, Dan's Way producer and founder of Eleven Media.
The pilot episode of the documentary showed different heart-touching stories of people living in Indonesia.
One of the personalities featured was Robin Lim, founder of Health of Mother Earth Foundation, who studied midwifery after her child died due to pregnancy mishandling.
Lim trains locals to educate women in promoting healthy and responsible pregnancy. She also gives free service for women who give birth.
The documentary also showcases an inspiring story of an armless woman photographer who never lost hope and her will to live despite her disability. It also featured the story of an old transgender who never ceased to promote the art of dance to the new generations of Indonesians.
He Ying, member of Standing Committee of CPC Nanning Municipal Committee and Vice Mayor of Nanning Municipal Government, said the narrative of the documentary brought far-away places before our own naked eyes.
"What moved me is the unique narrative and perspective of the documentary. It indicated how people seek the meaning of life and explore for a better life. The documentary also brought the far-away places right from our heart and eyes, it produces a strong echo in my mind," he said.
Meanwhile, for Chen Dehai, Secretary-General of ASEAN-China Center, the documentary is an aperture in bringing China and ASEAN countries closer to one another.
"The Dan's Way documentary combines the culture and tourism. It shows how ordinary people live in pursuit of life and happiness. It provides new gateway to China on what is the culture of the ASEAN countries and to bring people closer," Chen said.
The documentary will be officially launched in the China-ASEAN Expo Fair in Nanning, Guangxi this September. The team is also preparing for its feature in nine other ASEAN countries, including the Philippines.
"The next important step is to talk with ASEAN friends on which country should be the next subject for the documentary. We should discuss about the sequencing and logic of the (video) shooting. They should tell us which is the most beautiful sceneries with interesting cultural stories and we will show it to our audiences around the world," Su added.
Diplomats and attaches from the Philippines, Myanmar, Laos, Cambodia and Singapore vowed their full support and cooperation for the China-ASEAN Center and Eleven Media team in presenting the documentary in their respective countries.
Dan's Way was produced by Center Film Documentary Film Fund in conjunction with Eleven Media, Zhu Dan, a well-known domestic host-videographer. (PNA)