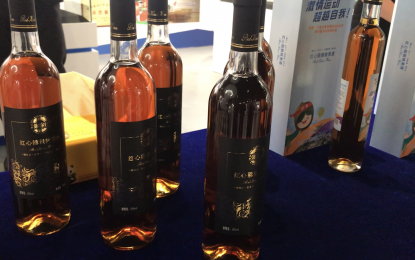 BEIJING, China -- Thousands of wine exhibitors, drinkers and enthusiasts will converge in the upcoming 8th China International Alcoholic Beverage Expo that will be held at the Guiyang International Conference and Exhibition Center in Guizhou province, southwest of China, on September 9-12.
"The expo aims to reinforce the exchange and cooperation between specialists of alcohol industry from China and abroad. It also provides a platform for building friendship, finding new chances of business network for specialists of alcohol industry from over the world," said Lu Yongzheng, Vice-Governor of Guizhou Provincial People's Government.
In the recent years, more than 1,000 foreign exhibitors from more than 40 countries and regions, including the United States, France, Spain, Italy, Australia, New Zealand, Britain, Portugal and South Africa, and nearly 1,000 exhibitors from China have participated in the wine exposition.
Yang Zhengyu, commercial manager of Liupanshui Cool City Kiwifruit Industry Co., Ltd., is one of the exhibitors in the upcoming expo, where he will showcase a unique wine made of kiwifruit.
According to Yang, kiwifruit wine is healthier compared to the usual red or white wine.
"Comparing to other types of wine, kiwifruit wine is much healthier due to its material, the original Minihong kiwi fruit. Normally we eat fruits after peeling, so we can't consume the nutrition of the peel part. But our advanced juicing and fermentation process completely extract and reserve the nutrition, especially the Vitamin C and anti-cancer substances of an entire kiwi fruit, brings the high quality, healthy wine. And we also have the world-leading filtration and packaging production line," he said.
In such a huge Baijiu (a Chinese white liquor made from grain)-producing province like Guizhou, the product of Liupanshui Cool City Kiwifruit Industry Co., Ltd. is one of the two liquor enterprises which have passed the US Food and Drug Administration certification. These are the Maotai and the Cool City Minihong.
After more than three years of introducing the kiwifruit wine, Yang said more and more people have started drinking healthy beverages.
"Chinese people have a long history drinking Baijiu. Western people tend to drink grape wine. To enter the alcohol market and become big deal is a great challenge, but with people concerned more about (their) healthy lifestyle, we have confidence in achieving the goal," Yang said.
Yang said they have been exporting kiwi wine to Canada and starting this year, his team plans to export it to US, Japan, and Russia.
Yang added that they are also working hard to find further cooperation with other Belt and Road and ASEAN countries. (PNA)