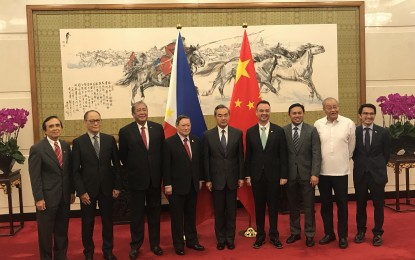 BEIJING, China - The Duterte adminisration's economic managers led by Finance Secretary Carlos Dominguez III arrived in Beijing on Wednesday to discuss various project cooperations with their Chinese counterparts.
Chinese State Counselor and Foreign Minister Wang Yi and other Chinese officials welcomed the seven-man Philippines economic team in Diaoyutai Guesthouse.
Yi said China and Philippines have entered a fast track of development and many works and cooperation projects are in the pipeline for the two countries.
"I hope and I believe through your current visit, we will reach more even concensus on cooperation between our two countries to deliver even greater benefits to the Chinese and the Filipino people and make our respective contribution to regional peace and stability," Yi said.
Dominguez, for his part, said the Philippine government is continuously working hard to achieve the goals of both President Rodrigo R. Duterte and President Xin Jin Ping in the development of ties between the Philippines and China.
"(With) the projects that we have envisioned to do together under the financing through Official Development Assistance (ODA) of the Chinese government and the Chinese people, we have been moving already fast quite ahead. We have two projects (that) have been signed, (including)large projects particulary the railway, the 600-kilometer railway and 70 kilometers railway from Clark to Subic are ready to be sign soon," Dominguez said.
The economic team is also set to discuss the "first basket" project cooperations which include the Chico River pump project, New Centennial Water Source-Kaliwa Dam project, Philippine National Railways Long-Haul project, Davao-Samal Bridge construction project, Rio Grande de Mindanao, Binondo-Intramuros bridge and Estrella-Pantaleon bridge.
According to Dominguez, they will also hold a meeting with Chinese Vice Premier for Economic Cooperation Hu Chunhua to dicuss the progress of China-Philippines relationship.
The Philippine delegation is composed of Foreign Secretary Alan Peter Cayetano, Finance Secretary Carlos Dominguez III, Socioeconomic Planning Secretary Ernesto M. Pernia, Budget Secretary Benjamin Diokno, Transport Secretary Arthur Tugade, Public Works Secretary Mark Villar and Bases Conversion and Development Authority President Vince Dizon.
The Chinese officials are composed of State Counselor and Foreign Minister Wang Yi, Commerce Minister Zhong Zhan, Director Wang Xiaotao of the China International Development Cooperation Agency, Hu Xiaolan of the Export-Import Bank of China and G. Lin Liquin, president of the Asian Infrastructure Investment Bank (AIIB).
The Philippine delegation will be in Beijing until August 24. (PNA)