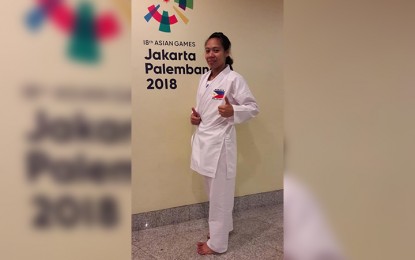 JAKARTA -- Two more athletes from karate kissed their medal hopes goodbye after failing to advance in the 18th Asian Games competitions at the Jakarta Convention Center Plenary Hall here on Sunday.
Mae Soriano survived her first-round match against Jordan's Fatima Alshawabkeh, 2-1, to reach the quarterfinal round where she lost to Macau's Sok I Wong, 1-3, in the women's -55kg category.
"I'm disappointed because after all the effort I did out there, I did not get the points to win," said the 36-year-old Soriano, who won the bronze medal in Incheon four years ago.
She was fifth in Qatar (2006) and ninth in Guangzhou (2010).
Soriano, who is from Bacolod City in Negros Occidental, has been with the national team since 2001. She won the bronze in the 2017 SEA Games in Malaysia.
Jayson Ramil Macaalay also lost his bid to reach the medal round when he fell to Vietnam's Hai Van Nguyen, 0-4, in the repechage stage of the men's -60kg category.
Macaalay prevailed over Macau's Tou Lam Ng, 3-0, in the first round but surrendered to Iran's Amir Mahdi Zadeh, 0-6, in the next round.
Mahdi, who is ranked No. 4 in the world, is the reigning Asian Games champion. He won the World Championships in 2016 and 2012 and the Asian Championships in 2017 and 2015.
Meanwhile, Afif Sharief and Tsukii Junna will see action on Monday. Sharief will be up against defending champion Ryutaro Araga of Japan, while Junna will face Bakhriniso Babaeva of Uzebekistan in the first round.
Orencio James Virgil Delos Santos was eliminated by Macau's King Hang Kuok, 0-5, in the men's kata event in the first day of the karate competitions on Saturday. (PNA)