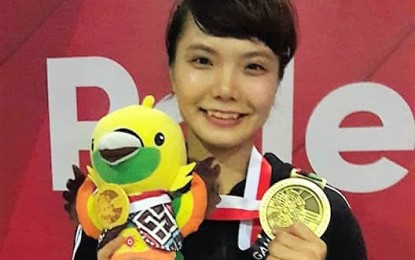 JAKARTA -- The Philippines picked up its 12th bronze medal courtesy of karateka Junna Tsukii in the women's -50kg event of the 18th Asian Games here.
Tsukii pulled off a 4-1 victory over Thailand's Paweena Raksachart, the 2017 SEA Games silver medalist, in their battle-for-the-bronze match at the Jakarta Convention Center Plenary Hall inside the Gelora Bung Karno Sports Complex.
Tsukii lost to Uzbekistan's Bakhriniso Babaeva, 1-2, in the first round and fell to the repechage stage where she faced United Arab Emirates' Hawraa Alajmi and won, 4-2. Her victory against Alajmi gave her a shot for the bronze medal.
Raksachart was also beaten by Bakhriniso in the semifinal round, 1-0, to move into the repechage stage.
The Thai won over Timor Leste's Daialle Exposto Pacheco de Jesus, 8-0, in the first round and Kazakhstan's Moldir Zhangbyrbay, 4-2, in the quarterfinals.
Chinese Taipei's Gu Shiaushuang won the gold medal after beating Babaeva, 3-2, in the final round.
"I was confident to win a medal in this Asian Games," said the 26-year-old Tsukii after the match. This bronze medal is not just for me, it's for the whole team."
Tsukii is now 2-1 against the Thai in their head-to-head encounter. She won over Raksachart in the Thailand Open last year, but the Thai beat her in the SEA Games in the same year.
The Philippines had earlier won another bronze medal from pencak silat courtesy of Cherry May Regalado.
Regalado tallied 444 points among six competitors in the women's singles final at the Padepokan Pencak Silat Center in Taman Mini Indonesia Indah.
Meanwhile, the Philippine men's and women's teams lost their respective first matches in the round-robin elimination of the squash competition at the Gelora Bung Sukarno Squash Stadium.
The men's team of Robert Andrew Garcia, Lydio Espinola Jr., Raymark Begornia and David William Pelino bowed to Hong Kong, 0-3, in Pool A.
In other results, Pakistan beat Pakistan, 2-1, and South Korea downed Nepal, 3-0, in Pool A while India won over Indonesia, 3-0; Malaysia clobbered Singapore, 3-0; and Qatar outplayed Thailand, 3-0.
In the women's division, the squad of Yvonne Alyssa Dalida, Jemyca Aribado, Regina Ma. Cristina Borromeo and Andrea Candace Jemiola fell to Japan, 0-3, in Pool A.
Malaysia, bannered by world's No. 9 Nicole Ann David, defeated Pakistan, 3-0. In Pool B, Hong Kong prevailed over Indonesia, 3-0, and India outclassed Iran, 3-0.
Hong Kong's Au Chun Ming and Lee Ho Yin met in the men's singles final last Sunday, with Au prevailing, 3-1, to win the gold medal.
Au won over India's Saurav Ghosal, 3-2, while Lee beat Malaysia's Mohd Nafizwan Mohd Adnan, 3-2, in the semifinal round.
David, on the other hand, bagged her fourth consecutive singles title after beating Malaysia's Sivasangari Subramaniam, 3-2, in the final. (PNA)