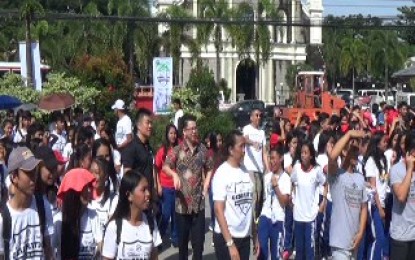 HERMOSA, Bataan -- This municipality on Wednesday launched the Tobacco-Free Generation (TFG) movement, during which, young Bataan residents born from year 2000 onwards pledged to do away with smoking and other tobacco-related activities.
Mayor Antonio Joseph "Jopet" Inton and Dr. Koong Heng Nung, a Singaporean who founded TFG, led the signing of the commitment wall and swearing-in of the youth.
The two also joined some students from Singapore and various towns of Bataan in Zumba dancing.
Mayor Inton said they started the no-smoking campaign in Hermosa in 2016. "We are happy that after one year, we were able to get the Red Orchid award from the Department of Health," he said.
"We will cooperate with TFG and work on TFG to make the next generation tobacco-free," he added.
Koong said TFG, which he founded in 2015 in Singapore, is a social movement - which works on preventing young people from smoking.
"We teach them well enough such that they understand the reasons behind stopping smoking. I think young people appreciate that they do not follow the not so good habits of the older generation," he said.
Koong noted that the Philippines, through Bataan, was the first country to join the TFG movement. "You should be proud that Bataan is the first place in the world to accept this concept," he told the youth.
The City of Balanga was the first to implement the no-smoking campaign, followed by the towns of Dinalupihan, Samal, Orani, and Samal, among some other municipalities.
"Those who were born in year 2000 pledged not to smoke, sell or attempt to use tobacco. All those who were born before year 2000, however, are expected to support the new generation," Bea Camille Santos, 18, said.
The student from Balanga City said that the new generation should not discriminate against smokers, rather show them care in the hope that they will stop smoking. (PNA)