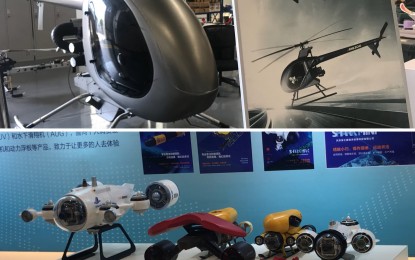 TIANJIN, China – From a salt alkaline wasteland to a new hub of innovation and cyberspace -- that is how the Binhai City in Tianjin was rebranded and is continuously being developed in the so-called Tianjin Binhai New Area (TBNA).
TBNA stands on the shore of the Bohai Sea, also called as Bohai Economic Belt, and the Beijing-Tianjin-Hebei urban agglomeration. It covers an area of 2,270 square kilometers, with a coastline of 153 kilometers and a resident population of more than 3 million.
It is situated 120 kilometers from the capital city, Beijing. The inland frontier is vast, radiating 12 provinces and cities in the northwest, and in the nearest eastern standing point of Eurasian Continental Bridge. It has five economic functional zones and 21 streets and towns.
According to Sun Bin, Director for Cyberspace Administration of Binhai New Area, after China's reform and opening up, Tianjin Binhai New Area focused on the development its economy with the cordial care and strong leadership of the Party Central Committee and the State Council, the Tianjin Municipal Party Committee, and the people of the whole district.
"A lot of major reform measures have created to make a "Binhai Effect" that has attracted worldwide attention. People's livelihood and welfare have been continuously improved, and the Binhai spirit of "open innovation and leading the future" has been formed, and the road for the rise of Binhai has been developed on the saline alkaline waste coast," Sun added.
Liveable Binhai
TBNA aims to promote a high quality of life through high-caliber services. It has fully developed enterprises, which focuses on key industries such as intelligent manufacturing, high-end equipment manufacturing, new energy vehicles and modern finance.
There are a lot of companies in TBNA that are pioneering advanced methods of implementing technology to help the community's daily life -- from land, air and water.
Among them is the Tianjin Academy for Intelligent Recognition Technology (TAIRT), which is a company that develops software which has the capability to recognize a person by the face and iris.
The software, called "IriStar," is now being used in various banks, airports and railway stations in China.
TAIRT is also developing danger recognition technology, which can detect and pinpoint a small flame or high temperature device in a deliberate or accidental incident.
There is also the Efy Technology, which pioneered the unmanned aerial vehicles (UAV). The company is focused on using air shipping with the use of drones in agriculture, police assistance, mapping and delivery.
Efy has developed a logistic helicopter type of drone called MQ 300. It can fly for 40 hours without recharging, and can load up to 80 kilos of goods and services. The maximum speed of the MQ 300 is 120 kilometers per hour and can fly up to 3,000 meters high.
Michael Li, Media Manager of Efy Technology, said they are working on expanding the market of UAV's not only in China but also in the world.
He added that they are also improving the technology and its policies for the benefit of everyone.
"We want to be the unicorn in Artificial Intelligence (A.I) for air shipping and number one in air transportation in the world. The competition is not a big deal, because we don't have competitors in this sector. The biggest challenge as a pioneer is on how to explore some new policies and improve the policy framework of the industry," Li said.
Efy partnered with some online and mobile shopping networks in China including JD.com.
For water research, exploration and leisure, the SuBlue Ocean Technology CO. Ltd. is a high-tech enterprise that focuses on research and development, manufactures and sales of underwater robots.
The products of Sublue play a vital role in marine economy development and marine equipment promotion. It is mainly used in rescue, submarine cleaning and maintenance, ocean engineering detection and operation, marine environment maintenance and inspection, marine scientific research and leisure.
Sublue says it is committed to be the leading company in the field of underwater robot and in providing core technique to guarantee national security and accelerate development of ocean resources.
Home of culture, arts
In a bid to measure the regional cultural soft power and promote the great development of prosperity, The Tianjin Municipal Government has established the Binhai Cultural Center (BCC) in the TNBA.
BCC is composed of five cultural venues which includes the Binhai Art Museum, Binhai New Area Library, Binhai Performing Arts Center, Binhai Discovery Hall and the Binhai Citizen Activity Center.
Among the five pillars, the Bihai New Area Library is the most visited area of BCC. The library has a total area of 33, 700 square meters and was designed by the MVRDV from the Netherlands.
The imaginative designs "Book Mountain" and "Eye of Binhai" had made rounds in social media.
The five-story modern library has a total of 1.2 million books and features digitalization media searching. It borrows service for local and foreign books.
TBNA is continuously developing some of the advantageous industries such as aerospace, petrochemical, biomedicine, new energy and new materials in order to meet and improve the economy and promote a comfortable life for all.
"The real economy is the foundation of the national economy and the basis for the development of TBNA. It was once the cradle and pioneer of the development of new China's physical industry. Since the reform and opening up, TBNA has always adhered to the road of large-scale opening to promote the development of the real economy, a prosperity and livable life in years to come," Sun said. (PNA)