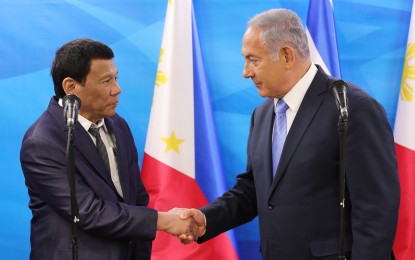 MANILA -- President Rodrigo R. Duterte on Tuesday bared that he has ordered the military to purchase equipment only from Israel.
"My orders to my military (is) that in terms of military equipment particularly intelligence gathering, we only have one country to buy from... that is my order, specifically, Israel," Duterte said during his bilateral meeting with Israeli President Reuven Rivlin in his official residence in Jerusalem.
Duterte also thanked Rivlin for extending help during the Marawi siege last year.
"You have extended us critical assistance during the Marawi siege against the extremists. And the equipment that you lent us helped us a lot to win the war and shortened the period of fighting," Duterte said.
"It behooves Israel and the Philippines to cooperate more than ever to defeat one enemy which I think could never disappear within the next ten years," he added.
Duterte, meanwhile, assured that the Philippines would be a good country to invest in, noting that there are a lot of business "opportunities" there that have yet to be explored.
"You will not find yourself a stranger there (in the Philippines)," Duterte told Rivlin.
"We intend to explore further in the field of investments and trade, and there are a lot of opportunities. Israel can help us on this. And of course, to set up investments...business in my country," he added.
He also expressed confidence that the Philippines and Israeli governments would not have any problems since the two countries shared common ideologies including love for peace.
"I do not see any reason that there would be a problem in our relationship. We side on what is morally right. And you can be sure that the Philippines will remain loyal to the tenets of democracy and the right of a nation to exist peacefully," Duterte said.
Rivlin, for his part, vowed to strengthen the long-standing diplomatic ties between Israel and the Philippines.
"We know that we have a very, very strong relationship now with you and your people. We [are] both trying to protect and to defend our people against fundamentalism, against terrorism," Rivlin said.
He also thanked the Philippine government for its assistance to Israel during the Holocaust by providing safe haven to Jewish refugees.
"I must say that all those people who have found safe haven in your place are very much appreciated by us," he added.
Rivlin emphasized the need to cooperate with every country, especially in terms of security.
"We are doing that and we are cooperating with every country that is trying to do the same to protect their own people and to carry the burden of security. And we do that with the idea and the values that we are holding, the values of democracy and the human rights," Rivlin said. (PNA)