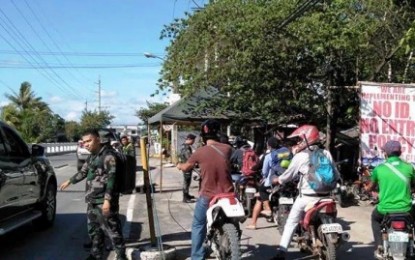 COTABATO CITY -- One needs a valid identification document (ID) to enter this city nowadays.
"A huge 'No ID, No Entry' signage along Matampay Bridge in the north and the Esteros Bridge in the southern part of the city says it all," Senior Supt. Rolly Octavio, city police director, told newsmen here Friday.
He said the strict implementation of the "No ID, No Entry" policy came about following an emergency meeting of the City Peace and Order Council here on Tuesday this week, in connection with the Aug. 28 and Sept. 2 bombings in Isulan, Sultan Kudarat.
"The mayor has requested us to impose strictly the policy in all our checkpoints," Octavio said.
Mayor Cynthia Guiani-Sayadi has earlier asked Cotabateños for understanding, saying she was bound to ensure the safety of everybody amid existing threats of terrorism.
She also ordered the strict implementation of the 10:30 p.m. – 3:30 a.m. curfew hours to further strengthen the city's security program.
"Except for emergency cases that one has to be brought to a hospital due to illness, then they will be allowed to do so," Sayadi said.
Octavio said the new "No ID, No Entry" policy exempts no one. (PNA)