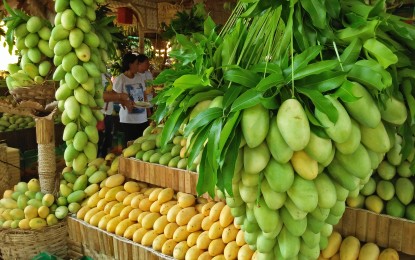 ILOILO CITY -- The Department of Agriculture (DA) is bringing in investors to the province of Guimaras to boost its production and look for markets, not only in the Philippines but also abroad.
On Wednesday, the province's mango growers met with Agriculture Secretary Emmanuel Piñol, who brought with him investors who could help revitalize the mango industry of Guimaras, said Provincial Agriculturist Ronnie Morante in a phone interview Friday.
The secretary brought with him investor Archie Po, the Filipino owner of the Lion Air Company based in Singapore, whom he urged to help in marketing Guimaras mangoes abroad.
Po has a 727 cargo plane that can transport up to 20 metric tons of mangoes every other day.
Aside from Po, Piñol was also joined by technical experts on mango rejuvenation to help farmers rehabilitate old mango trees and those that are sprayed by chemical pesticides.
Once rejuvenated, a tree can have an average yield of 1.5 metric tons from the current average of 500 kilograms.
Morante said the investors and the Agriculture Department will be providing support to the growers by establishing a packing plant on a vacant area of the Bureau of Plant Industry in Guimaras.
It will also serve as a buying station the farmers can bring their mango produce to for sorting, treatment, packaging and marketing, he added.
They will also be provided with technology and appropriate training as among the support.
Morante added though that they still have to come up with an agreement that is favorable to both the growers and the investors.
Guimaras has a total of 7,290 mango growers. The mango population is now at 274, 822 trees but they are not fully maximized due to the limited resources of growers, especially on financing. Only about 40 percent of the mango trees are induced, he said.
However, with the help of the DA and investors, it could reach up to 70 to 80 percent.
Morante said that based on history, the highest production in the province was only 12, 732 metric tons. If maximized, it can reach up to 20,000 metric tons.
"There will be more contractors who will go back and invest because they know there is a market," he said.
They will also be identifying areas that they can open to investors. They expect to thresh out the details next month.
At present, 70 percent of the mango plantation in Guimaras is grown in backyard and 30 percent in the orchard. Except for one small plantation that sells its product abroad, the other mango produce goes to the local market.
Once the production has improved, one of the possible markets is South Korea, Morante said.
President Rodrigo Duterte gifted South Korean President Moon Jae-in with premium mangoes from Guimaras during his state visit to South Korea in June. During the visit, they found out that the price of a box with nine mangoes equivalent to two kilograms costs USD50 US, Morante quoted Secretary Piñol as saying.
"It was so far the sweetest mango that's why they prefer to get from Guimaras," he said. (PNA)