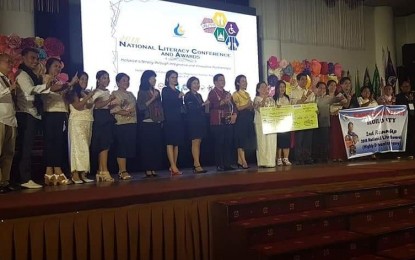 ILOILO CITY -- This city was recognized as the country's third best in the 2018 National Literacy Conference and Awards for local government units (LGU) highly urbanized category held in Baguio City last week.
In an interview after the regular Monday flag raising ceremony, Mayor Jose Espinosa III said it was the first time for Iloilo City to vie for the award given by the Department of Education (DeEd) and it was able to grab the third spot.
He expressed gratefulness to teachers who were behind the city's success in garnering the award. "We owe this to our teachers," he said.
Based on data provided by the Iloilo City public information office, this highly urbanized city had a 98.2 percent literacy rate during the last literacy mapping.
In its 2013-2019 Comprehensive Development Plan under the Social Development Sector, it outlined to "promote access to quality education for all".
Among its major programs are the Iloilo City Alternative System (ALS), Technical Institute of Iloilo City (TIIC), Iloilo City Community College (ICC) and the KAhublagan sa BArangay para sa LApnagon nga Kahandaan (KABALAKA), which translates to Movement for Community-Based Disaster Preparedness. Kabalaka means "to care."
The ALS program has recorded 12,100 enrolled elementary and secondary students since 2014, posting the highest performance rating in Western Visayas.
Based on data from the Division of Iloilo City, there were 680 passers of ALS Accreditation and Equivalency (A&E) Test in 2016; 688 passers in 2015; and 383 passers in 2014.
In January this year, the ALS at the Iloilo City District Jail- Male Dorm (ICDJ-MD) of the Bureau of Jail Management and Penology (BJMP) produced 71 graduates.
On the other hand, the TIIC Molo campus has produced 1,141 technical-vocational graduates from 2014 to March 2018.
The TIIC Bo. Obrero Campus in Lapuz District has produced 4,663 graduates from 2011 to 2017 in various fields such as baking, cooking, wine mixing, beauty care, food processing, massage, housekeeping, and computer literacy, among others.
The Iloilo City Community College has produced 1,480 graduates of Bachelor of Science in Travel Management, and Bachelor of Science in Office Administration since it started in 2012, to date.
KABALAKA, the program of the city government in terms of disaster risk reduction and management (DRRM) that aims to introduce DRRM literacy to the grassroots, was able to reach out to 23 public elementary schools, one private elementary school, five universities, and 33 barangays.
Its gallery containing information and exhibit center boasts of 17 education materials developed by local artists. It also holds advocacy brochures, flyers and interactive exhibits on environment and disaster preparedness. (PNA)