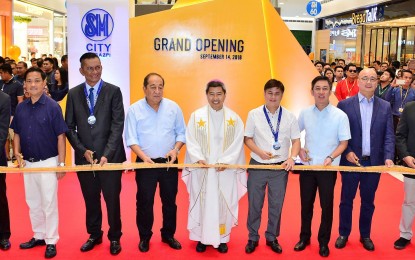 LEGAZPI CITY – SM City opened its biggest shopping mall in this premier city of Bicol region Friday.
The opening of SM Super Mall, which is located on the 4.5-hectare land area adjacent to the Ibalong Centrum for Recreation and the City Grand Terminal at the heart of the city's central business district in Barangay Bitano, paves the way for all shoppers in the region to buy their needed merchandise.
The four-level building houses the SM Department Store, SM Supermarket, Cyberzone, appliance center, six digital cinemas and a multi-level parking area that can accommodate at least 922 cars.
The mall has a total gross floor area of 87,706.38 sq. meters, while the leasable area is equivalent to 42,603.24 sq. meters. It has 180 shops with a customer service hub, accessible facilities for Persons with Disability (PWDs), and breastfeeding stations.
It will be open from 10 a.m. until 9 p.m.
The vast glass wall of SM Food Hall affords mall shoppers a view of Mount Mayon.
Mayor Noel Rosal, together with Albay 2nd District Rep. Joey Salceda, Albay Governor Al Francis Bichara and Hans Sy, President of SM Shopping Center Management Corp. and SM top officials, led the grand opening, which began with a Holy Mass officiated by Bishop Joel Baylon.
Other members of the Sy Family also attended the inauguration, including Chico Sy, Carol Sy, Herbert Sy, Hendrick Sy and Herson Sy.
The entry of SM here signifies that Legazpi City is a growing center of investment in Bicol with almost 4 million shoppers from other neighboring provinces, including parts of Samar who are expected to shop here instead of going to Metro Manila or Cebu.
Rosal, in an interview, said he always encourages investors to put up more business establishments in this city as he believes that the business sector is the main engine for economic growth that contributes to the social, economic and environmental development of the community and generate more employment opportunities.
The SM management has already hired about 4,000 employees, including for managerial positions, as well as supervisory level and rank-and-file workers. It also hopes to increase its manpower up to 6,000 employees.
Legazpi City is Bicol's nerve center, being home to large business establishments with 379 hotels and restaurants with 233 banks and finance institutions, as well as 66 educational institutions, 10 hospitals and six malls.
This city was named by the Department of Trade and Industry and the National Competitive Council as No. 1 in infrastructure development, No. 2 in economic dynamism, and the overall champion in Most Competitive City in the entire country.
Legazpi was also recognized by the USAID as the No. 2 Most Livable City in the country.
Besides being the regional center for Bicol, Legazpi is also the center of tourism, transportation, education, health services and trade and commerce. (PNA)