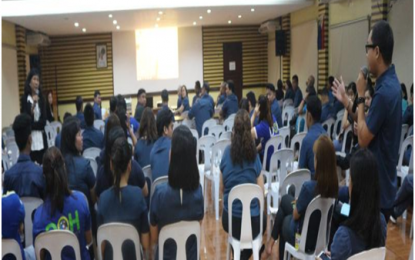 CALAMBA CITY, Laguna –Some 110,025 crash incidents happened in Metro Manila last year, or about 299 incidents daily, according to the Metro Manila Development Authority (MMDA).
MMDA data shows that 434 people died and about 19,374 were hurt in Metro Manila due to road accidents last year.
This alarming road mishaps causing injuries, deaths and damage to properties, prompted the Department of Health (DOH) Calabarzon to organize a safety seminar, in partnership with the MMDA.
The road safety seminar is part of the agencies' social responsibility to keep government workers, drivers and personnel abreast on road and traffic rules and regulations to avert accidents and save lives.
The DOH-Calabarzon and MMDA spearheaded the road safety seminar, which kicked off Monday, to enhance the knowledge and skills of government employees for better traffic management, and response to the continuing traffic concerns and situations in and around Metro Manila and neighboring Calabarzon provinces of Cavite, Laguna, Batangas, Rizal and Quezon.
"Having proper knowledge on road regulations and safety provisions, we can minimize traffic altercations and incidents every time we drive a vehicle. We can also reduce accident rate by simply putting on a helmet, seat belt, observing speed limit and obeying traffic lights and signs," said DOH Regional Director Eduardo C. Janairo.
The DOH regional office also revealed the MMDA data showing the top three cities with the highest number of road crash cases, such as Quezon City with 35,494; Makati with 11,425 and Manila with 11,315.
"Road safety is everyone's concern. It is as simple as following the rules of the road," Janairo advised, urging employees to exercise defensive driving to keep the roads safer for everyone.
He added "it is more about common sense than anything else. The more people driving defensively, the safer the roads will be," he added.
Latest figures on road mishaps also revealed that among the vehicle with the most number of road crash casualty, cars are on top with 110,653, followed by motorcycles with 24,058, and vans with 20,940; while most of the casualties are people aged between 18 to 34 years old.
The key is driver awareness and attitude. This will ensure the protection of the vulnerable road users by undergoing road courtesy, discipline, and traffic safety education program before acquiring a license," Janairo said.
The MMDA Traffic Education Division head, Anita V. Cannaoay, was among the resource persons who presented updates on traffic rules and regulations for motorists, and responded to issues and concerns raised by DOH-Calabarzon employees-participants pertaining to Metro Manila's traffic schemes along major roads. (PNA)