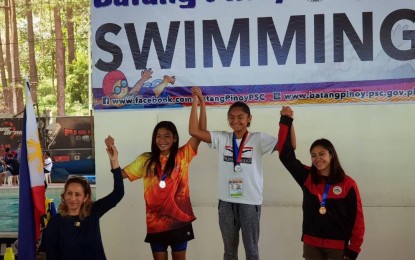 MANILA -- The Philippine Swimming Inc. (PSI) has announced the staging of qualifying tournaments for next year's Southeast Asia Age Group Swimming Championships in Cambodia.
PSI president Lani Velasco on Thursday said the qualifying tournaments at the Rizal Memorial Sports Complex pool are scheduled on October 6-7, 27-28 and November 17-18, with the finals slated on December 7-9.
The Philippines hosted the 42nd edition of the SEA Age Group Championships, winning four golds, 10 silvers and 16 bronzes at the Trace Aquatics Centre in Laguna last July.
Xiandi Chua, a 17-year-old student at the Immaculate Conception Academy, was the most bemedalled athlete of the tournament after winning two golds (200-meter individual medley and 200-meter backstroke) and two bronzes (4x200-meter relay team with Janella Alisa Frances, Zoe Marie Hilario and Athena Shannessa Chang, and the 100-meter freestyle) in the 16-18 years old category.
The other two gold medals came from Miranda Renner (16-18 years old girls' 50-meter) and Mishka Sy (13 years old and under 200-meter backstroke).
Six national junior records were set during the three-day tournament, which saw Vietnam pocketing 58 golds, 39 silvers and 21 bronzes.
Those who registered new records were Filipino-American Jonathan Cook, Arbeen Miguel Thrulen, Liaa Margarette Amoguis, Rafael Barreto, Juan Marco Daos and Mishka Sy.
The 6 feet tall Cook, who was born in New Jersey but is now based in Washington, got two silvers in the 100-meter breaststroke (1:03.22) and the 200-meter IM (2:07.95) events in the boys' 16-18 years old category. He erased Gerard Bordado's 12-year-old record of 1:05.47 in the 100-meter breaststroke event.
Thrulen clocked 27.75 seconds in the boys 13-under butterfly event to erase the 11-year-old record of Gabriel Castelo (28.17 seconds) while Amoguis posted 5:19.62 in the girls 13-under 400-meter IM event to improve the 5:26.26 mark set by Raven Faith Alcoseba three years ago.
The other record holders were Barreto (16-18 boys' 50-meter butterfly), Daos (13-under boys' 200-meter freestyle) and Sy (13-under girls' 200-meter backstroke).
Last year, the Philippines sent 31 swimmers to Brunei and went home with four golds, nine silvers and eight bronzes. The Filipinos' past performances were 1-10-11 (2016), 2-2-7 (2015), 0-4-4 (2014) and 1-5-9 (2013). (PNA)