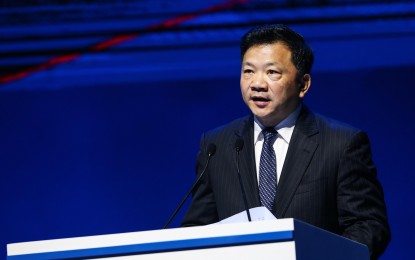 GUANGDONG, China — Chinese officials on Wednesday called for the creation of a new future for the silk road in stimulating vitality of cooperation, during the opening of the 21st Century Maritime Silk Road International Communication Forum 2018 at the Zhuhai Exhibition Hall here.

Chinese Vice Minister of the Publicity Department of the CPC Central Committee and President of the China Media Group (CMG) Shen Haixiong made the call during the MSR Forum which is expected to further promote and spread the spirit of the sea silk in exchange of mutual learning, in a bid to bolster win-win cooperation to stimulate innovation and vitality.

"There is only one earth, and building community of common destiny for all mankind has become the trend of the times. The Silk Road is not only the road of commerce and trade, but also the road of cultural exchange and dialogue among civilizations," Shen said.

Ma Xingrui, Governor of Guangdong Province, said Guangdong will further strengthen infrastructure connectivity with the countries and regions along the "Belt and Road Initiative" region, and continue to deepen cooperation in various fields including economy, trade, science and education.

"We will continuously improve the level of refinement of the external cooperation park and project construction, and strive to contribute to the transformation of the 'Belt and Road Initiative' construction to a high quality development. The forum is aimed at strengthening communication between Chinese and foreign media, building international consensus and boosting the construction of the belt and road key platforms," Ma added.

Over the past five years, the maritime Silk Road initiative has been widely recognized and actively participated by the international community.
The initiative has built more than 80 overseas economic and trade cooperation zones with the countries along the route, including the creation of a large number of new jobs, which greatly benefited local people.

According to Vice Minister Shen, China has continued to open wider to the world and promote global prosperity to all.

"In 2017, China's contribution to world economic growth reached 34 percent, the contribution rate of over 70 percent to the global poverty reduction, and the proposal of China for solving global problems, increasingly highlight that China is the builder of world peace, contributors to global development and defenders of the international order," Shen said.

The three-day MSR forum was attended by world leaders, well-known educators, communication and media professionals, which include former French Prime Minister Jean-Pierre Raffarin, 2011 Nobel Laureate in Economics Thomas J Sargent, and Zhu Yeyu, vice president of the Hong Kong University of Science & Technology.

The forum was co-hosted by the China Media Group (CMG) and People's Government of Guangdong Province, with the help of Guangdong Provincial Information Office, Zhuhai Municipality and Huafa Group. (PNA)