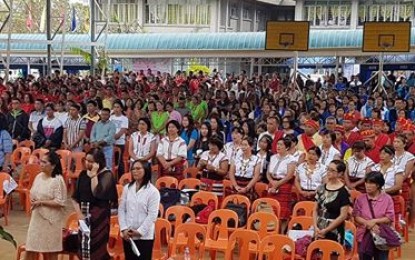 BAGUIO CITY – For eight hours, Augustina Agmaliw has to walk her way to teach at the Es-esa S. Alodos Elementary School in upland Barangay Tacadang in Kibungan town, Benguet province.
She has no choice but to go on foot, as she needs to cross over several mountains to reach her workplace, which she also calls home.
Because of the distance, Ma'am Agmaliw, as her students call her, stays at the school on weekdays and starts to walk back home on Friday afternoon, then back again on Sunday afternoon for Monday's classes.
"What I do is never easy," she admits. "When I go to school, I carry loads of supplies of food, including learning materials."
But with teaching as her passion, she says she'll do whatever it takes to give high-quality education to her kailians or townmates on the mountains.
Ma'am Agmaliw wants them to be educated, too, like herself.
Teaching children from a far-flung community is a joy to her. She never thought of it as a tedious job, despite the regular long trek.
"I eat together with the students, sharing whatever there is like vegetables, root crops, fish, and even the canned goods I bring along with me," Agmaliw says.
At times, she relates, she also got to give the students some money if they are broke. Sometimes, the school, itself asks for donations, particularly school materials for the school children.
Honoring teachers
Early this week, the Department of Education (DepEd) in Cordillera celebrated its first-ever Regional Teachers' Day to honor educators who commit themselves to building up others by selflessly sharing their knowledge.
"This is to honor the teachers, whether they are teaching in private or public schools. This is also to make Teachers' Day a celebration as big as other special occasions, like Valentines Day and Christmas Day," said Georaloy Palao-ay, chief of the Public Affairs Office of DepEd-Cordillera.
Palao-ay said this is also the first time Teachers' Day was celebrated on a regional scale.
He said the event is a prelude to the national celebration of World Teachers' Day on October 5.
Unequaled satisfaction
Palao-ay said the entire Cordillera region has a total of 16,767 teaching personnel, with Baguio City and Benguet having the most number of teachers.
He noted, though, that there are more educators who opt to teach in public schools, rather than in private schools.
Probably because of the benefits that the government provides, he said.
But not quite, if one hears what Divine Grace Abella, a teacher in Abra, has to say.
Ma'am Divine used to teach in a known private Catholic school in the province. But after several years, she decided to teach in a public school.
Her reason, though, was more than what Palao-ay said.
"I believe that in public schools, there are more challenges to encounter, which can enhance or develop my skills and potential as an educator," she explains. "It's not only in terms of sometimes poorer academic performance of the students. Dito mo rin makikita ang tunay na buhay ng isang estudyante (Here in public school, you will see how the students really live) that sometimes, they need to absent themselves from their classes just to attend to the needs of their family, like tutulong sa pagsasaka (helping in the farm)."
Saturnina Garcia, a teacher from Baguio City National High School (BCNHS), says being an educator is never easy, but seeing the students learning and later on attaining success in life is an achievement and personal fulfillment in itself.
"I've been teaching for 18 years now and every time a student of mine visits, it makes me feel proud, because I had an impact on that student," she says.
Ma'am Garcia says there are times her former students visit to update them, their teachers, on their current situation, where they are, and what they do for a living.
This, she says, never fails to give the teacher pride, for contributing to what the students have become.
Ma'am Garcia says teaching presents educators many challenges, but remembering the reason for their existence will make them grounded and focused.
"Remembering why you got into this profession in the first place will help you stay focused, when those challenging days come around," she points out.
Ma'am Garcia says it was never her plan to become a teacher. She took Political Science as an undergraduate degree.
"I think it was God's plan not to let me practice what I had finished in college," she mused. "Perhaps, He wanted me to help mold the youth, help society to create future leaders."
Educating teachers
Although cases of Ma'am Agmaliw still exists, DepEd-Cordillera tries to catch up with the times.
"The regional office provides training and seminar for our educators to adapt with the 21st century teaching standards because this will also help them prepare the learners to be competitive," Palao-ay said.
He is glad teachers are very receptive and do their best to cope with fast-moving technology and pass this knowledge on to their students in the countryside.
Palao-ay notes that such situation tests the creativity of teachers in remote communities, like in teaching the topic of computers without electricity and internet connection.
"They simply have to make the most of the available resources to update students of the technologies," he said.
Johann Felise Agoot, a 4th year Education student, major in Special Education at Saint Louis University, says she decided to take up the course before graduating in high school because she had heard of the high demand for teachers locally and abroad.
Johann grew up in an environment filled with educators. Her maternal grandfather, father, aunt and even her mother all finished the Education course.
But she nears finishing the course now, herself, she has learned to love the profession, more than the employment prospects it offers.
"I came to realize that as a teacher, you will not just work, but you have to love the work," she said.
Johann's academic major focuses on students with special needs. (PNA)