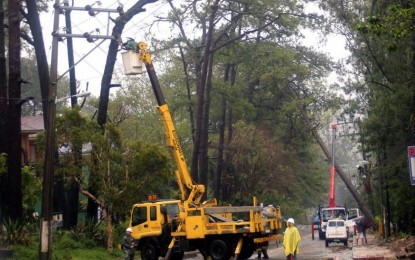 BAGUIO CITY -- The Benguet Electric Cooperative (Beneco) is open to the entry of new power producer, Solar Para Sa Bayan Corp., to energize far-flung villages in the highland province of Benguet.
"Let's welcome them. This is an opportunity for the EC's (electric cooperatives) to match the offer of Solar Para Sa Bayan in terms of efficiency and distribution of electricity and price per kilowatt-hour," Beneco legal manager Delmar Cariño, told the Philippine News Agency (PNA) on Monday.
Cariño said despite opposition to the new entrant in the industry from various quarters nationwide, Beneco, which lights up Baguio City and Benguet, is unfazed because Beneco sells cheap power as a cooperative and a non-stock, non-profit organization.
Beneco's prime mandate, he said, is to energize the areas it covers. He said if Solar Para Sa Bayan could provide electricity to hinterland villages, which Beneco now finds hard to reach, then it would be better for the people.
"This is an opportunity to test the capability of the electric cooperative to provide an efficient supply of power at low cost," he said.
Beneco's stand runs counter to that of the Philippine Rural Electric Cooperatives Association (Philreca), which has 121 members nationwide, including Beneco.
Cariño said Philreca is opposed to the Solar Para Bayan's request for a nationwide franchise by describing it as against the law.
"Opposed ito dahil sabi nila this is an all-out franchise, which is against the law kasi buong Pilipinas yung hinihingi nitong franchise at sabi ng Philreca, we hold the franchise in every area, dapat kami ang magpailaw (Philreca is opposed to it because what they are asking is an all-out franchise covering the whole country, and Philreca said we [electric distribution utilities] hold the franchise and we should be the ones to provide the electricity)," he explained.
The lawyer said under the EPIRA (Energy and Power Industry Reform Act), qualified third parties can come in if electric cooperatives feel that they are unable to energize the farthest and the remotest villages.
"Solar Para Sa Bayan is the first private institution that expressed interest, but the law requires that the existing franchise holders waive their rights to the coverage areas," Cariño noted.
He said Beneco is open to the entry of other players because the bottom line will be the electricity cost to the consumers.
He said Beneco is confident it can outmatch what a private entity can offer in terms of price because it is not concerned with profit.
Beneco sells its power between PHP7 and PHP8 per kilowatt hour (kwh) for the residential consumers and maintains a 7 percent systems loss, which is way below the allowable.
The law allows a ceiling of 13 percent system loss, but lower is proof of efficiency of power lines and services.
"Non-stock kami, ang Solar may capital cost and may ROI (return on investment) at operation cost, so ang confidence ni Beneco, kaya namin na magmaintain ng mababang presyo kasi hindi kami humahabol ng income at ROI (We are a non-stock, while Solar has capital cost and ROI to consider, aside from operation cost. Beneco is confident that we can maintain a low electricity cost because we are not after any ROI)," Cariño pointed out.
But he said that as of August 2018, Beneco still has 635 unenergized sitios, which are all in Benguet. Baguio, he said, is fully-powered up.
He said the challenge to Solar Para Sa Bayan will be to keep its electricity cost low, especially in Benguet and other areas of the Cordillera.
Solar Para Sa Bayan Corp. is a solar energy provider founded by Leandro Leviste, son of Senator Loren Legarda. (PNA)