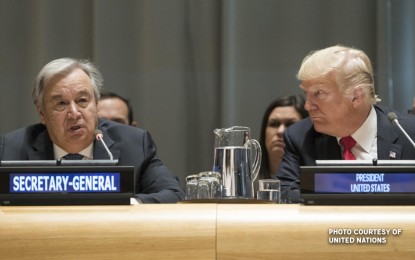 MANILA – United Nations Secretary-General Antonio Guterres and United States President Donald Trump have both expressed their commitment to fight the global drug problem through two means – combating drug addiction and stopping all forms of trafficking and smuggling.
In an article published in the United Nations (UN) website, both leaders made the commitment during the High-level Event on Counter Narcotics, convened by the United States, at the UN Headquarters in New York, on Sept. 24.
Guterres described drug addiction as "more than just a policy issue but also a personal issue", noting that he himself had lost a friend to drugs.
He also expressed concern that only one in six people who need drug-addiction treatment receives it, and for women, the figure is even higher.
"National priorities may differ, but the global community shares a common goal: to protect people's security, health and well-being," Guterres said.
Guterres emphasized "strong action in two areas" to tackle the drug problem--first, to crack down on drug trafficking and second, to provide drug-addiction treatment.
He explained that this was the policy he employed as Portugal's Prime Minister two decades ago, when the country had some of Europe's highest drug abuse death rates and the highest rate of HIV amongst injecting drug users.
For his part, Trump echoed Guterres, noted that drug addiction continues to claim too many lives in the US and the nations around the world.
"Today, we commit to fighting the drug epidemic together," Trump said.
"It is vital for public health and national security that we fight drug addiction and stop all forms of trafficking and smuggling that provide the financial lifeblood for vicious trans-national cartels," he added.
Citing the 2018 World Drug Report, Trump said cocaine and opium production have hit record highs, noting that global drug-related deaths have gone up 60 percent in 15 years.
Trump urged nations to "reduce drug demand, cut off the supply of illicit drugs, expand treatment and strengthen international cooperation."
He said if these steps are taken together, countless of people in all corners of the world will be saved.
"The United States looks forward to working with you to strengthening our communities, protect our families and deliver a drug-free future for all of our children," Trump said. (PNA)