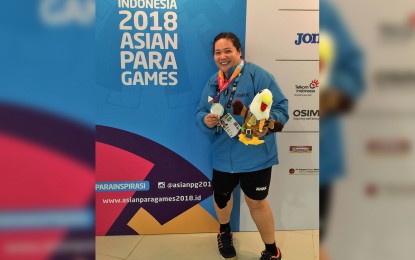 MANILA -- Paralympian Josephine Medina bagged the silver medal in the women's singles table tennis Class 8 category of the 2018 Asian Para Games in Indonesia on Tuesday.
Medina, a bronze medalist in the 2016 Rio Paralympic Games, lost to China's Mao Jingdian, 0-3 (8-11, 3-11, 6-11) during their championship round match at the Ecovention Ancol in Jakarta.
Mao, who holds the No. 1 spot in Class 8 with 1502 points based on the International Table Tennis Federation (ITTF) Para Table Tennis rankings, marched on to the final after beating Japan's Yuri Tomono, 3-0 (11-13, 11-3, 11-5, 11-3).
On her way to the final, Medina won over Thailand's Kriabklang Kanlaya, 3-0 (11-7, 11-6, 14-12), in the quarterfinal and China's Huang Wenjuan, 3-0 (17-15, 12-10, 11-6), in the semifinal round.
"God is good. A silver for my dear country," the 46-year-old Medina said in an online interview after the medal ceremony on Tuesday.
Medina, who was afflicted with polio, has described her silver performance as an "unexpected victory".
"But as I always say, it's hard to promise anything but one thing for sure is that I will do all my very best for our dear country. A sincere heart and strong will to fight. God's will be done," added Medina, who is being coached by former national player, Michael Dalumpines.
Medina said she was happy to have contributed to the country's medal campaign for the third time. She also got the silver during the 2010 edition of the Asian Para Games in Guangzhou, China and won the bronze in Incheon, South Korea four years ago.
Medina is scheduled to return to Manila on October 12 and will leave for Slovenia on October 14 to compete in the 2018 World Para Table Tennis Championships, which will be held from October 15 to 21 in the towns of Celje and Lasko.
An estimated 330 athletes are competing in the 2018 World Para Table Tennis Championships, which will be the first World title tournament for individual events after the 2016 Rio Paralympics.
"I am excited to compete in Slovenia. It will be a very challenging tournament and I am hoping for the best," said Medina, who has qualified for the tournament because of her present world ranking of No. 6. She has earned 1263 points.
Other players in the world's Top 10, Thu Kamkasomphou of France (1407), Aida Dahlen of Norway (1353), Zu Mingyu of United States (1332), Juliane Wolf of Germany (1331), Elena Litvinenko of Russia (1217), Dajana Jastrzebska of Poland (1209), Zsofia Arloy of Hungary (1188) and Yu Hailian of China (1107), are also expected to see action in Slovenia.
Medina won the gold medal in the ASEAN Para Games in Kuala Lumpur, Malaysia in September last year. She garnered two medals in Class 6-10 at the 4th Taiching Table Tennis Open for Disabled which was held from July 15-20 in Taichung, Chinese Taipei -- a bronze in the singles event and a silver with Minnie Cadag in the team event.
In 2016, Medina won the gold medal in the women's singles combined Class 8, 9 and 10 during the US Para Open Championships in Las Vegas. She clinched the gold medal (Class 9) during the 2014 ASEAN Para Games in Myanmar.
Medina was the most bemedalled athlete in the Philippine team during the 2008 ASEAN Para Games in Thailand after winning five gold medals coming from the singles Class 8 and singles Class 6-10, doubles open Class 6-10 (with Purificacion Mingarine) and team Class 10 (with Mingarine and Minnie de Ramos). (PNA)