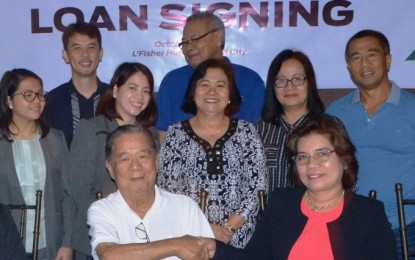 BACOLOD CITY – The Negros Occidental provincial government and the Land Bank of the Philippines have formalized the contract for the granting of the PHP1.2-billion loan for the province's three major infrastructure projects this year.
The memorandum of agreement was signed by Governor Alfredo Marañon Jr. and Land Bank of the Philippines (LBP) First Vice President Elsie Fe Tagupa in rites held at L'Fisher Hotel here on Monday.
The signing came after the Provincial Board approved a resolution authorizing the governor to enter into the said loan agreement last October 3.
Marañon thanked the LBP through Tagupa for their trust and confidence in the provincial government.
In response, Tagupa said they are "very happy" to partner with the province in strengthening the agriculture sector as well as to boost the household earnings of the farmers.
Out of the PHP1.2-billion loan amount, PHPP900 million will be allotted for the construction of the seven-story Provincial Administration Center located across the Provincial Capitol Building in this city.
Meanwhile, PHP175-million will be used to fund the improvement projects of Mambukal Convention Hotel and Tourist Lodge, Negros First Hotel, and Negros Food Terminal.
The remaining PHP125 million will be utilized for the upgrading of Eleuterio T. Decena Memorial District Hospital in Hinobaan town -- from only 10 beds to 25 beds.
Second District Board Member Salvador Escalante Jr., chairman of the committee on appropriation, budget and finance, earlier said that based on the agreed terms, the provincial government will pay the LandBank for 10 years with a three-year grace period at an interest rate of 3.5 percent per annum.
For 2018 alone, the total loans acquired by the province from the Landbank and other creditors including the Development Bank of the Philippines and Department of Finance-Municipal Development Fund Office reached about PHP2.8 billion. (PNA)