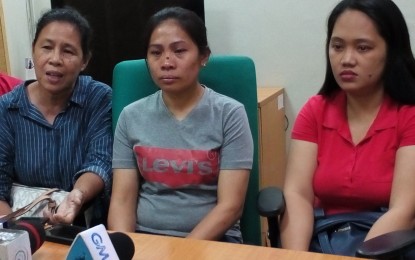 BACOLOD CITY -- An overseas worker from this city, who has been maltreated by her employers in Kuwait, has returned home through the assistance of Philippine authorities.
Corazon Abiasada, 32, who hails from Barangay Handumanan, was able to go home to Bacolod on October 9, after arriving in Manila on October 4.
Abiasada, a single mother to a nine-year-old girl, was employed as a domestic helper by a Kuwaiti and a Lebanese couple in November last year.
In an interview at the City Mayor's Office on Monday, she said her female employer would physically and verbally abuse her often.
"My employer told me that she would cut my tongue and throw me out of the window," she added.
Abiasada added that when the woman would tell her husband that she doesn't like how she does her job, her male employer would also hit her.
She claimed there was even a time when her male employer asked her to touch his private part which she refused.
Abiasada added the couple brought her to Lebanon, where they stayed from June to August this year.
She said she could no longer stand the abuses but her employment agencies -- Ala Lamania International Manpower and Jouzar Mohamad Manpower Agency -- were unable to help her. She then decided to contact her family in Bacolod.
On October 2, her mother and aunt sought help from the Bacolod City Office of the Sectoral Concerns. Its women's sector coordinator Francisca Depamaylo sought assistance from Glenda Buelo of Kilusang Pagbabago.
Buelo immediately contacted lawyer Edwin Bael, consultant on overseas Filipino workers at the Office of the President. Bael informed them the following day that the Philippine Embassy has coordinated with the Kuwaiti authorities, who then found Abiasada in the home of her employers.
Bael later informed Abiasada's family that she already has a ticket for her return flight to the Philippines.
Abiasada said she is thankful to be reunited with her family especially with her daughter, but is contemplating on working abroad to support her child.
Since she started working in Kuwait in 2011, she said her two previous employers treated her well. She added that she did not expect she would experience abuse in the hands of her recent employers. (PNA)