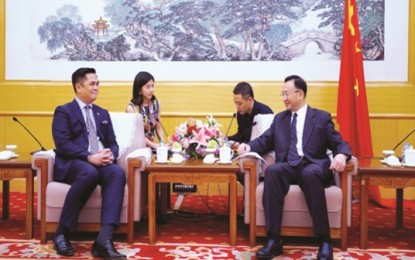 BEIJING, China — Officials of the Presidential Communications Operations Office (PCOO) and the Philippine Embassy in Beijing met with officials of the National Radio and Television Administration (NRTA) of the People's Republic of China on Sept. 17 to discuss ways of enhancing media cooperation and strengthening partnerships in relation to China's Belt and Road Initiative.
Presidential Communications Secretary Jose Ruperto Martin M. Andanar led the Philippine delegation, accompanied by embassy officials Minister Ivan Frank M. Olea and Third Secretary Mark Hanzel H. Lao.
NRTA Vice Minister Fan Wei Ping led the Chinese delegation in the meeting.
Andanar expressed appreciation over the improving media relations between the Philippines and China.
He extended his gratitude to Fan for the PHP140 million worth of radio equipment, and additional PHP40-million funds for the establishment of government centers provided by the Chinese government.
He also expressed hope that China's efforts to assist would continue.
Meanwhile, he assured the Chinese Vice Minister that PCOO will continue to work hand in hand with NRTA.
Andanar also expressed gratitude over the positive coverage of the Philippines by leading Chinese news agencies like China Central Television (CCTV) and China Xinhua News Network Corporation.
Fan took the opportunity to discuss three significant points from the Chinese side during the meeting, as follows: signing of the Memorandum of Understanding (MOU) between PCOO and NRTA; exchanges of China-ASEAN media; and enhanced media cooperation under the Belt and Road Initiative.
Andanar added that he hopes the MOU between PCOO and NRTA would be signed as part of Chinese President Xi Jinping's planned visit to the Philippines later this year.
The Chinese vice minister also invited the Philippines and PCOO's active participation in the series of activities and initiatives that will be conducted next year as part of China-ASEAN Strategic Partnership, particularly on media exchanges.
NRTA looks forward to the enhanced media cooperation through China's Belt and Road Initiative.
For more information, visit www.beijingpe.dfa.gov.ph. (DFA PR)