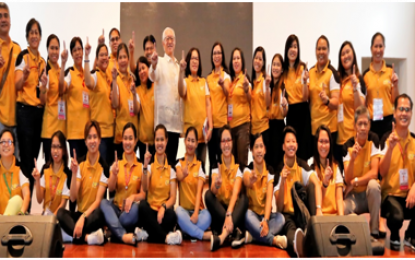 BATANGAS CITY – The total assets of 319 cooperatives across Batangas province reached PHP 6.5 billion this year, the Provincial Cooperative, Livelihood and Enterprise Development Office (PCLEDO) reported Friday.
Jenelyn A. Aguilera, chief of the Batangas Public Information Office (PIO) told the Philippine News Agency on Friday that the PCLEDO, through its head Celia L. Atienza, presented the progress report on the provincial cooperatives as part of the observance of Cooperative Month this October.
Atienza reported that of the total number of coops, 212 are multi-purpose in operations; 40 as credit; 14 represents the consumer; 15 agri-based; 10 marketing; and 28 are on labor and water services, transport and producers.
Altogether, the coops achieved PHP6.5 billion in assets and PHP2.2 billion in members' equity, Atienza said.
She said around 13 coops have grown into large cooperatives, which have achieved more than PHP 100 million in members' equity; 59 are medium; 106 small; and 141 are considered micro coops.
Some of these huge coops are the Sorosoro Ibaba Development Cooperative (SIDC) in Batangas City; LIMCOMA Multipurpose Cooperative in Lipa City; Ibaan Market Vendors and Community Multipurpose Cooperative in Ibaan town; and the Tuy Market Vendors and Community Multipurpose Cooperative in the town of Tuy.
"Kabilang sa mga tulong at programang naipatupad ng PCLEDO ang financial assistance para sa mga kooperatiba kung saan sila ay nakapagkaloob ng P10,000 (Part of the government support and programs implemented by the PCLEDO is through financial assistance of some PHP 10,000 for each cooperative)," Atienza said.
She said that since July 2016 up to September 2018, the PCLEDO has financially supported some coops to around PHP 10.6 million under its "Funded Cooperative Projects."
These projects covered some 167 coops that used the funds for the construction of their buildings/offices and facilities, including the purchase of office supplies, equipment and inputs for the coops' various operations.
Atienza also disclosed that around 28 cooperatives availed of the "Cooperative Loan Assistance" with the aggregate amount of PHP 12.95 million to fund their livelihood and business projects such as on dairy industry, micro-finance, livestock, water refilling and other enterprises.
Around 1,735 individual coop members also benefitted from the "Individual Livelihood Assistance", which totaled some PHP 8,402,500 for the individual member's capital or seed money for their businesses.
While several activities highlighted the successes of coops on poverty eradication and social transformation in some areas of the province, the PCLEDO through its "Cattle Fattening Livelihood Project," has assisted some 25 animal farmers who have received financial support totalling around PHP 1.17 million.
Atienza said they are promoting cooperativism and its impact to social and economic development by intensifying public awareness and social consciousness on the vital role of cooperatives through PCLEDO's allocation of some PHP 2,331,200 to finance some 96 trainings and educational campaigns and membership information drive (PNA)